Tadpoles
Welcome to our Tadpoles page on the website. Our class teacher is Mrs Tasker.
This half term our topic is Amazing Autumn. During this topic we will exploring the changes that take place at this time of the year and the celebrations that are happening, in particular Bonfire Night, Diwali, Halloween and Remembrance. We will be going on an autumn walk to look for signs of seasonal changes and considering what animals in Broughton Astley do at this time of the year to prepare themselves for the cold winter. To see more information about this topic please click on the autumn 2 links below.
23.10.2018: To start our topic about Autumn Celebrations we have begun by thinking about Harvest and sharing the story of the Little Red Hen. We have had lots of fun making puppets and telling the story together using actions and story maps. We have also had a go at baking our own bread just like the Little Red Hen. We enjoyed helping weigh out the ingredients and mixing it together and it was lots of fun kneading the dough. To see pictures of our cooking click here.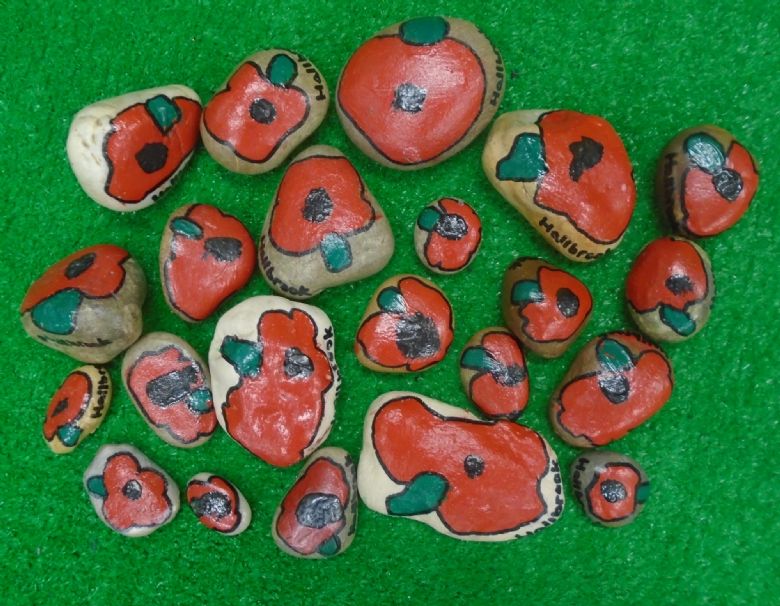 24.10.2018: We have been busy at school painting our poppy stones in support of the British Legions commemoration of the 100th anniversary of the end of WW1 we have painted poppy stones in school. When your child brings their stone home it is to be hidden around the village for others to find prior to Remembrance Sunday on 11th November and then we have been asked if you find one to take a photograph and post on the local British Legion Facebook page called Remembrance Stones and then they have asked if you will take it to the War Memorial in Broughton Astley village and place it around the base where you can wait for a while and remember those from the village who gave their lives for their country. To see our painted Poppy Stones click here.
Thank you for your support with this.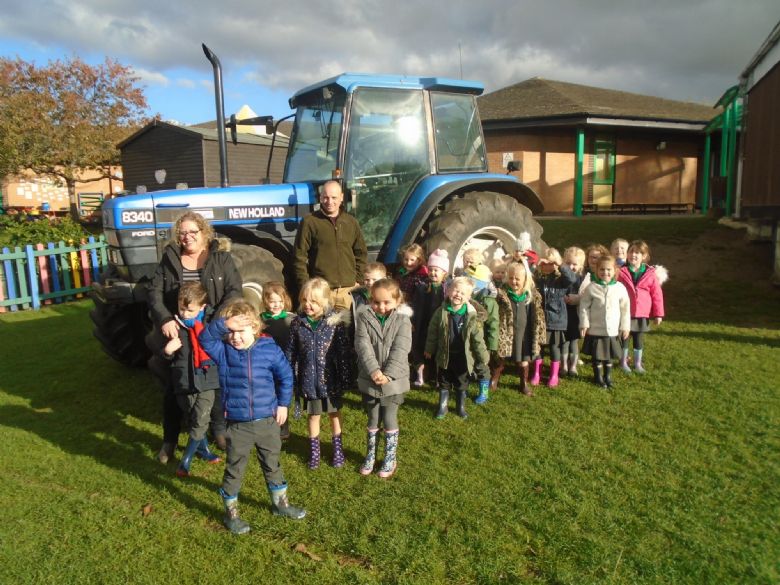 29.10.2018: We had a very busy day at school today. We continued with our work about harvest time, looking at vegetables and using them to make funny faces as well as using them to print and create patterns. We also had a visit from Mr Chapman who brought in his tractor for us to look around and to ask questions about like Where do you keep your tractor? and Why are the wheels so big? To see photos of the tractor visit click here. We also went on an autumn walk around our playground looking for signs of autumn changes. We talked about the leaves falling off the trees and the beautiful colours that they change to. We also noticed how cold the weather had got and that we couldn't see any flowers growing. To see photos from our autumn walk click here.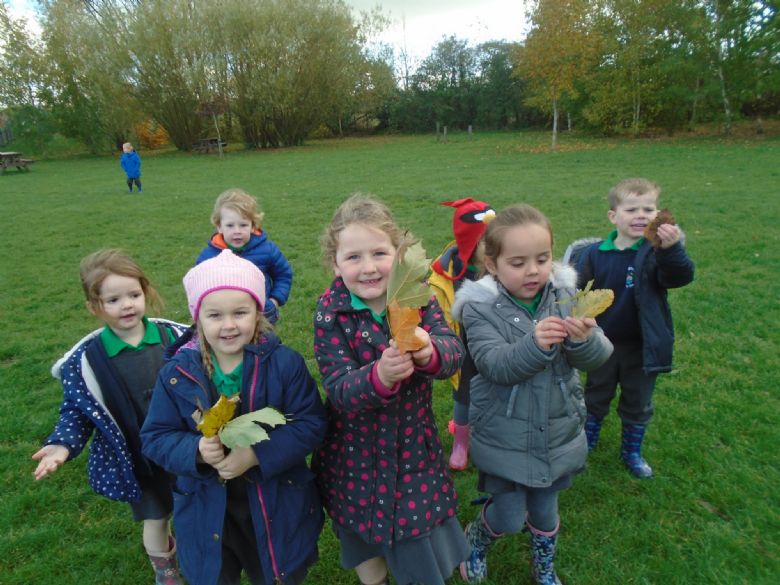 30.10.2018: Today we used the harvest vegetables to make a soup. the children all helped to peel and chop up the vegetables which included potatoes, tomatoes, carrots, pepper, celery and onion. We took it to the kitchen to be cooked with some stock. After break we sat together in the hall to try the soup we had made. Everybody had a smell of the soup and a few even had a taste and thought it was yummy. To see photos of our soup making click here.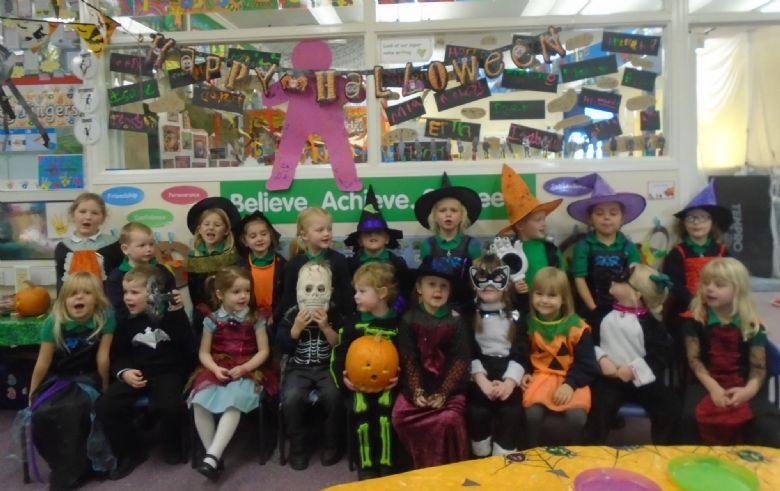 31.10.2018: Today we had lots of fun at school celebrating Halloween. We enjoyed dressing up as spooky characters as well as making lots of Halloween crafts, carving a pumpkin and mixing our own spooky potions. To see the photos of our Halloween fun click here.
1.11.2018: Tonight we had our spooky Halloween disco at school. It was lots of fun dancing and joining in with games like the limbo. To see some photos from the disco click here.
9.11.2018: We all dressed up as superheroes for World Diabetes Day. We had lots of fun looking at everybody's costumes and pretending to be heroes for the day. To see the photos click here.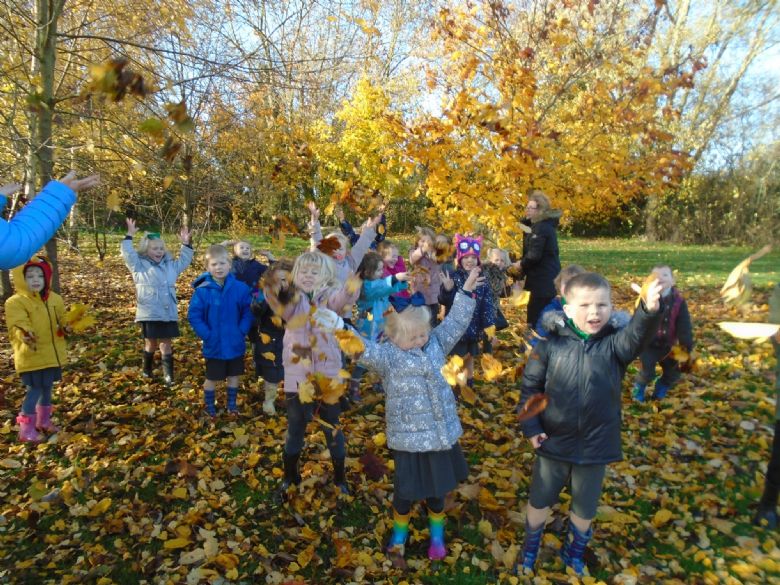 12.11.2018: We had lots of fun outside looking at how the trees in our playground change during the autumn. We collected leaves to use in our autumn art work. Click here to see our autumn leaf pictures.
We would also like to say a big thank you to all those parents who have donated toys to school, they are greatly appreciated and the children have loved playing with them.