Tadpoles
Welcome to our Tadpoles page on the website. Our class teacher is Mrs Tasker.
The title of our topic for this half term is Starry Night.
This topic focuses around space and exploration of the night sky. We will considering bedtime routines, thinking about how we get ready for bed and stories we like to share before we go to sleep. We will also learning about space and the night sky. We will be looking at night sky images, thinking about what stars are and the planets in our solar system. We will be imagining our own space adventures, inspired by stories such as Whatever Next!
We will also be learning about things that happen at night whilst we are asleep including nocturnal animals that come out at night and people who work through the night, especially those that help other people such as the police, firemen and doctors and nurses.
This year Chinese New Year will be celebrated on the 25th January. We will be considering how people around the world celebrate Chinese New Year, sharing traditional stories such as the Chinese New Year Animal Race and creating a range of beautiful art work such as Lanterns, dragon puppets and ordinal number rosettes.
Important Dates and Information
Friday 24th January Parents are invited to attend a Chinese New Year Open Morning which will be filled with lots of fun creative activities for you to get involved in with your children. (letter to follow nearer the time).
After the half term break our new topic will be Once Upon a Time ...
Look out in the weekly This Week at School letters in your child's Home School Link Books for further information about these topics.
10.1.2020 Today was very exciting as we all came to school in our pyjamas and onesies to launch our new topic called Starry Night. To begin with we talked about our bedtime routines. We used pictures to sort out what we do before we go to bed including having a bath or shower, cleaning our teeth, having a story and whether we sleep with a light on or not. We then talked about dreams and considered what we would like to dream about, creating some super dream pictures. In the afternoon we shared bedtime stories and enjoyed hot chocolate with marshmallows and cookies. To see pictures of us trying our hot chocolate click here.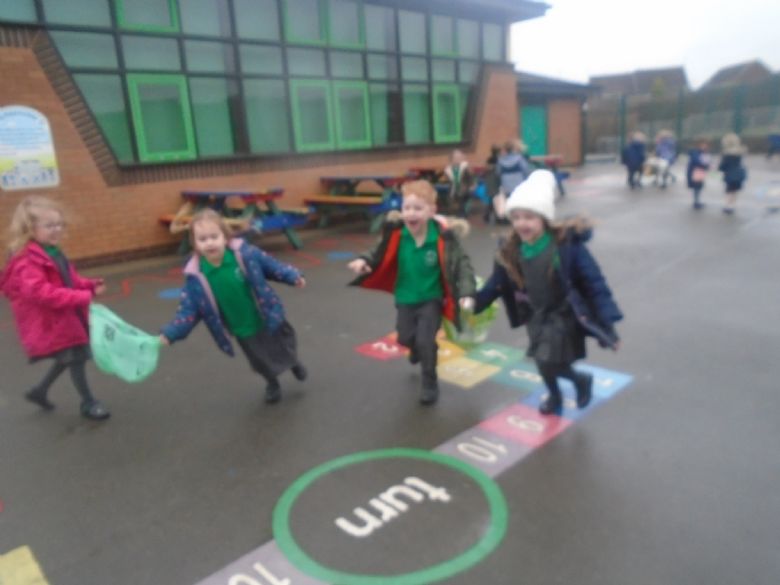 14.1.2020 Today was a very windy day at school. All day we could hear the wind outside blowing the trees and whistling by our windows. In the afternoon we thought that we would go outside and blow out the cobwebs by having a run in the wind. We set the children the challenge of working with a friend to try and catch a bag full of wind. It was lots of fun and the children had great fun working together. To see more photos of our windy day fun click here.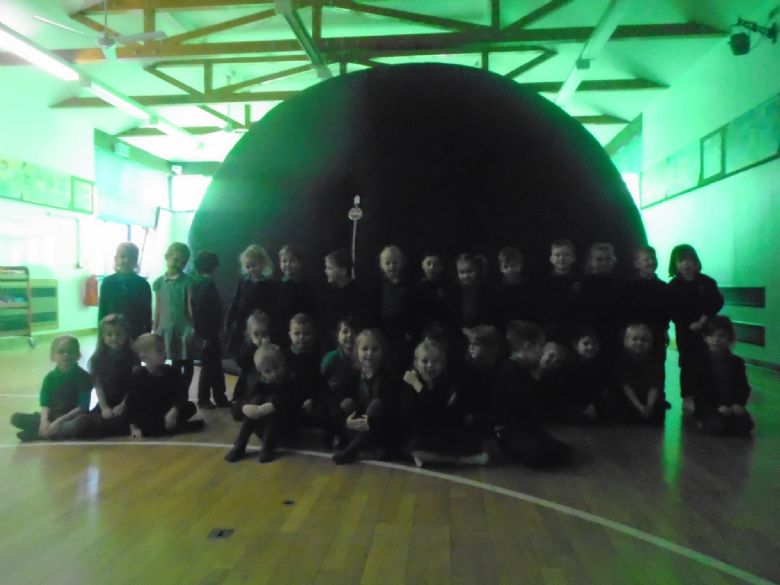 20.1.2020 Today we had a visit from the planetarium. We had to quickly get inside the big, black dome tent before it deflated and once we were all inside the show was ready to start. Mr Allen told us all about the night sky, he showed us the stars and the patterns that they make as well as tell us about the moon, sun and night and day on Earth. He also talked to us about light sources and then we learnt about animals that come out at night and how their senses are different to ours to help them get around and hunt in the dark.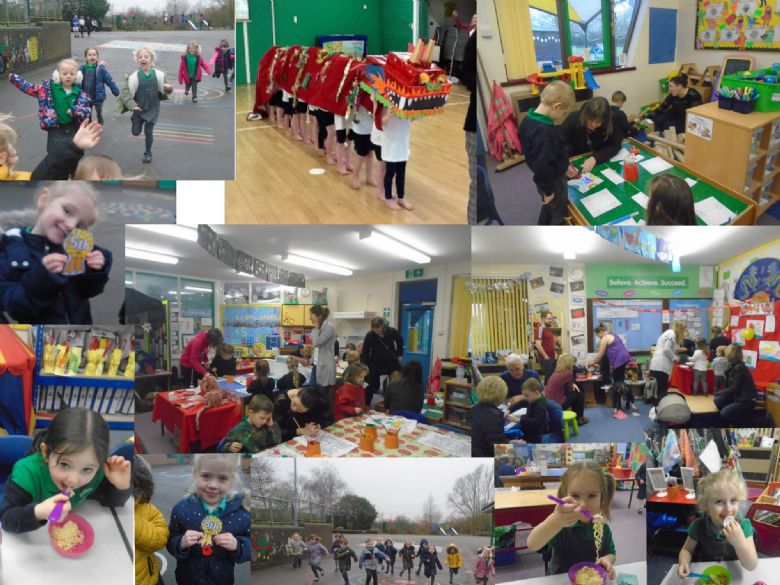 WC 20.1.2020 This week has been a very busy week at school. We have been learning all about Chinese New Year. We have shared the story of the Great Race and used this in our literacy work as well as having our own races in maths and presenting ourselves with rosettes and ordering them too. We performed our own Chinese dragon dance in PE and we also had lots of our family and friends in to school to help us make Chinese New Year inspired decorations and crafts. We also cooked and tried a few Chinese foods including noodles, egg fried rice, sweet and sour sauce and prawn crackers.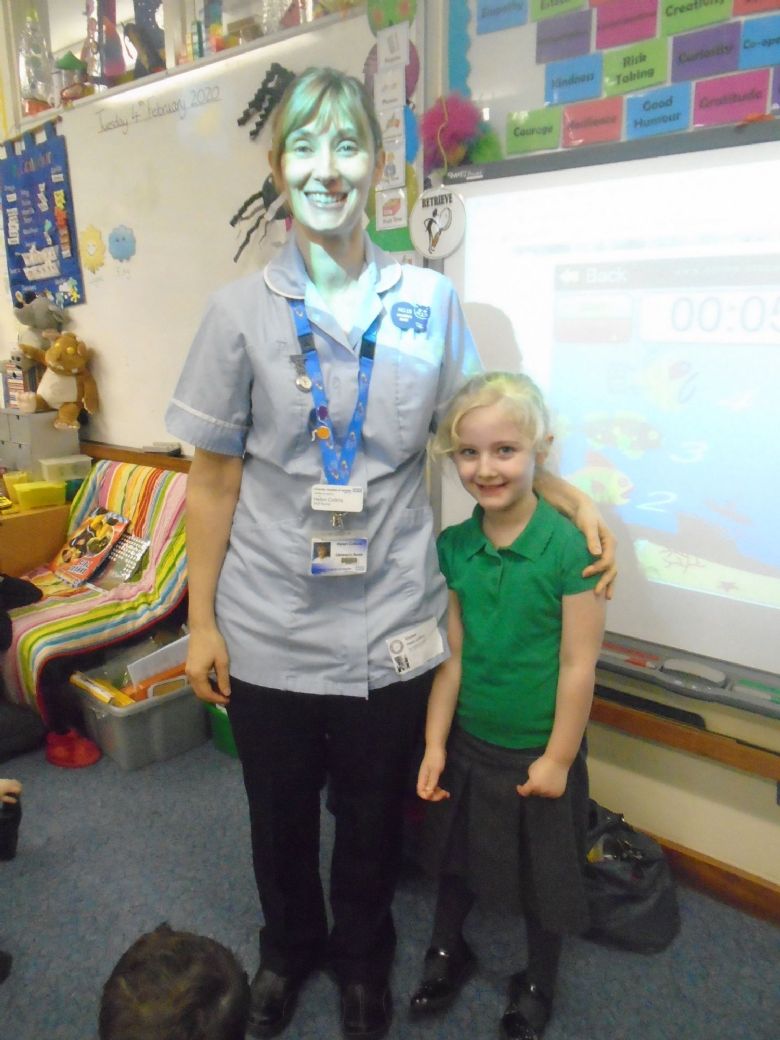 4.2.2020 Today we had a visit from one of our parents who came into school to talk to us about the important job that nurses do to look after us. We enjoyed listening to the different jobs that she does at work to look after children when they are poorly, we then asked some questions about how she helps people.
6.2.2020 We had lots of fun exploring our new balance bikes at school. Mr Garner took us into the big playground in groups to talk about how to check our bikes are ready to use and how to put on an fit our helmets. It was good fun pushing our bikes around the playground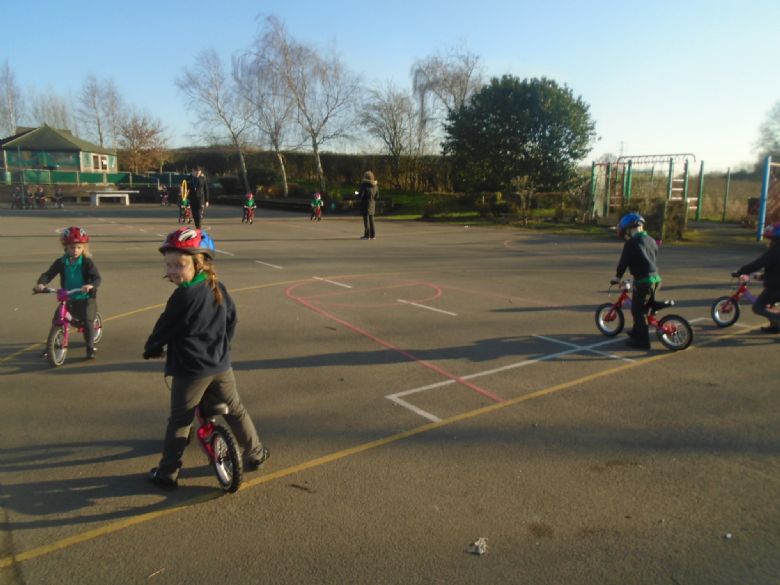 14.2.2020 Today we had a visit from the police who talked about the important job that police do to help us in our community. We had lots of questions to ask and even got to sit in the police car.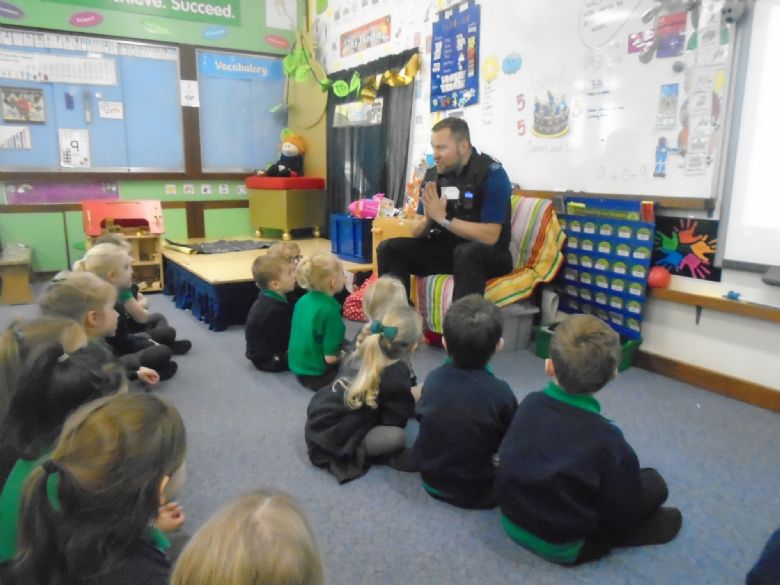 ​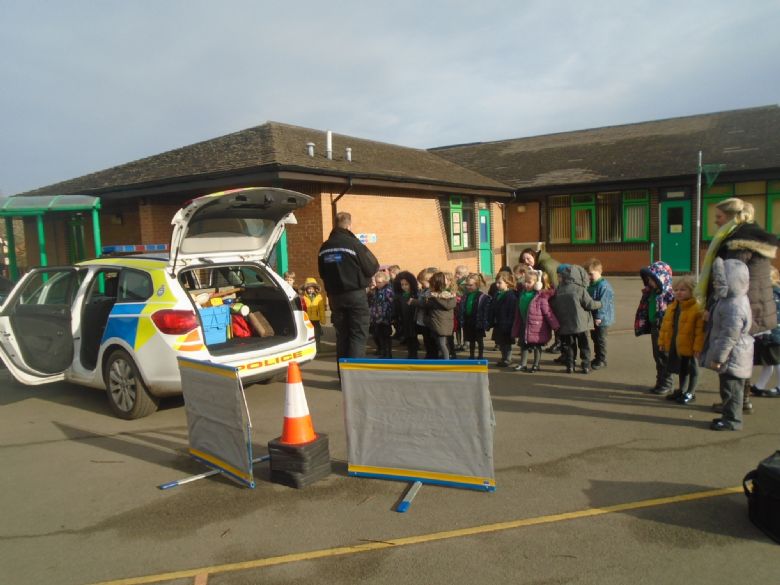 .
During our first term at school we enjoyed settling into school, exploring our new classroom and making lots of friends. We enjoyed sharing rhymes and creating lots of art work linked to some of our favourite rhymes. We then moved on to the topic of Fabulous Friends. During tis topic we talked about what we like to play with our friends, thought about different situations and how they might make us feel and what we can do to help each other if someone is upset. We also shared stories about friends and created our own friend stories.
Week Beginning 2.9.2019: We have had a wonderful couple of days getting to know your children on their first days at school. We have had lots of fun exploring our new classroom and playground and have been busy painting and writing our names. We have also enjoyed trying the yummy school dinners.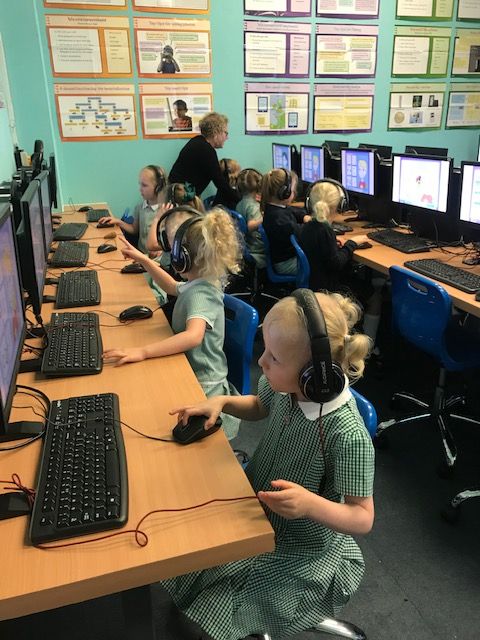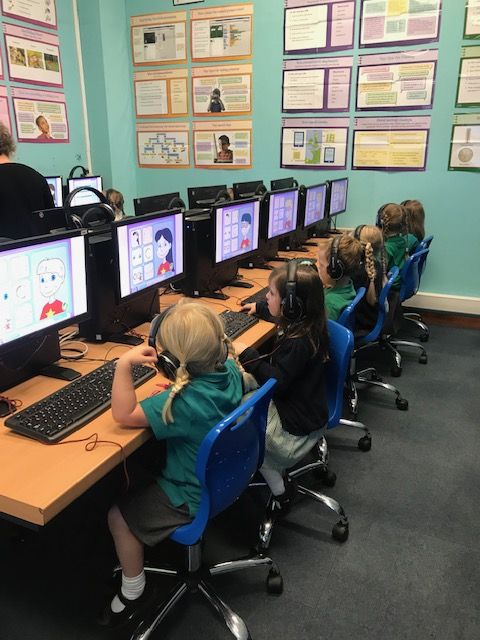 12.9.2019 What a busy day we've had today. Not only have we had a very busy morning creating a wonderful nursery rhyme display but this afternoon we have also been into the ICT suite for the first time and had a go on the computers, using a mouse to try and click and create a picture of ourselves. After ICT we then all tried really hard to get ourselves changed for PE and then had lots of fun playing games outside on the field.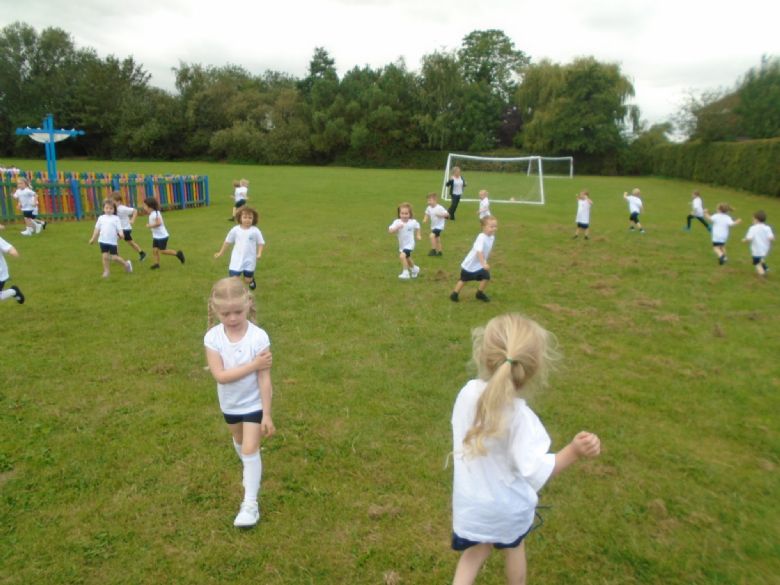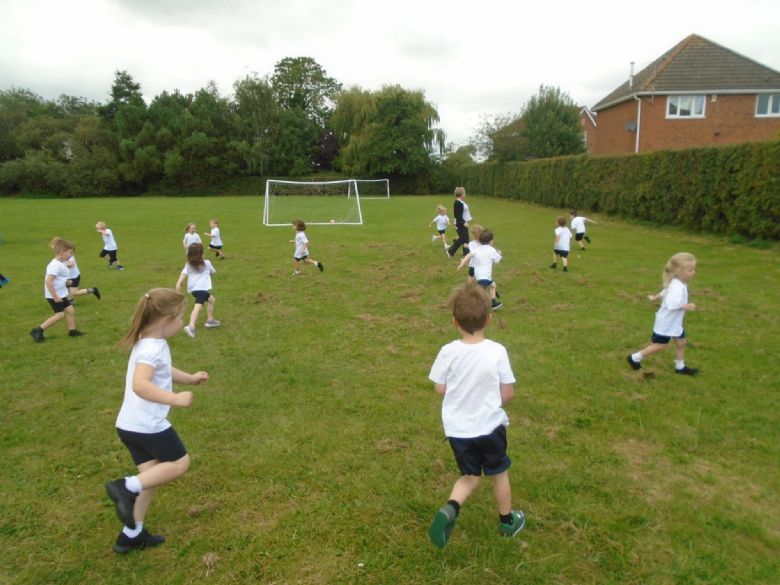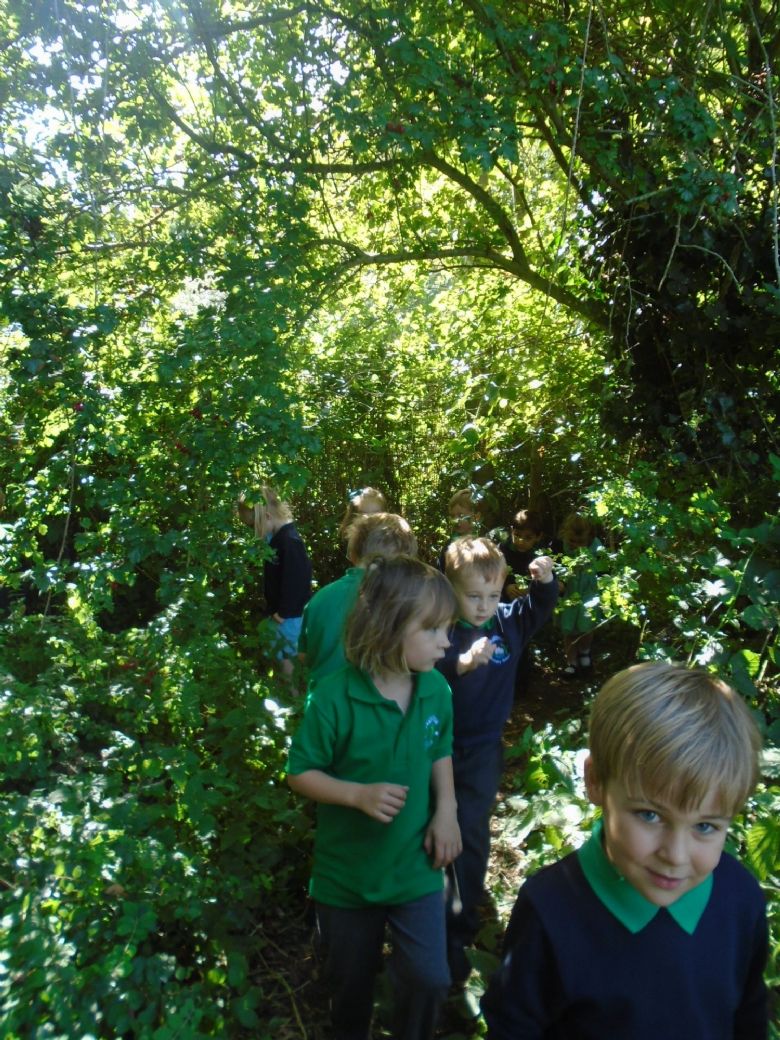 13.9.2019 On Friday afternoon we went out on to the big playground to explore the Playground 2000 and investigate the woods. It was lots of fun climbing and sliding and running through the trees. We had a lovely afternoon and as the weather was so nice we had an afternoon break of extra milk and fruit on the field.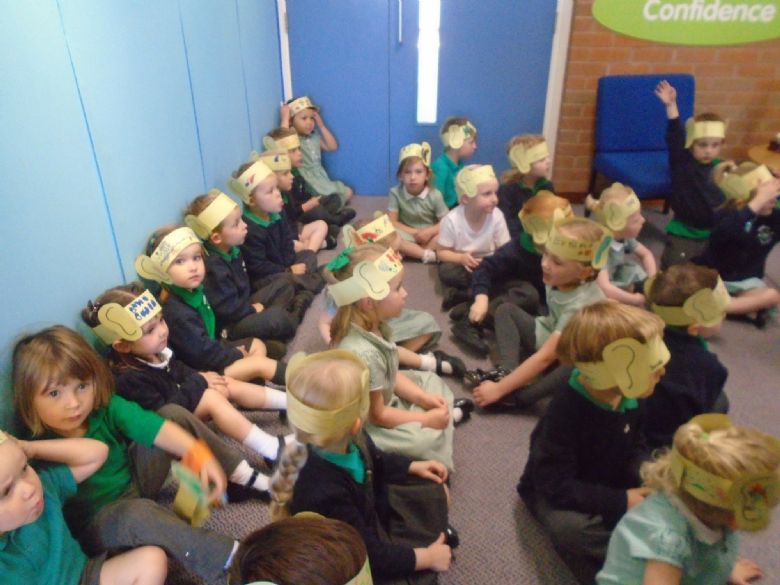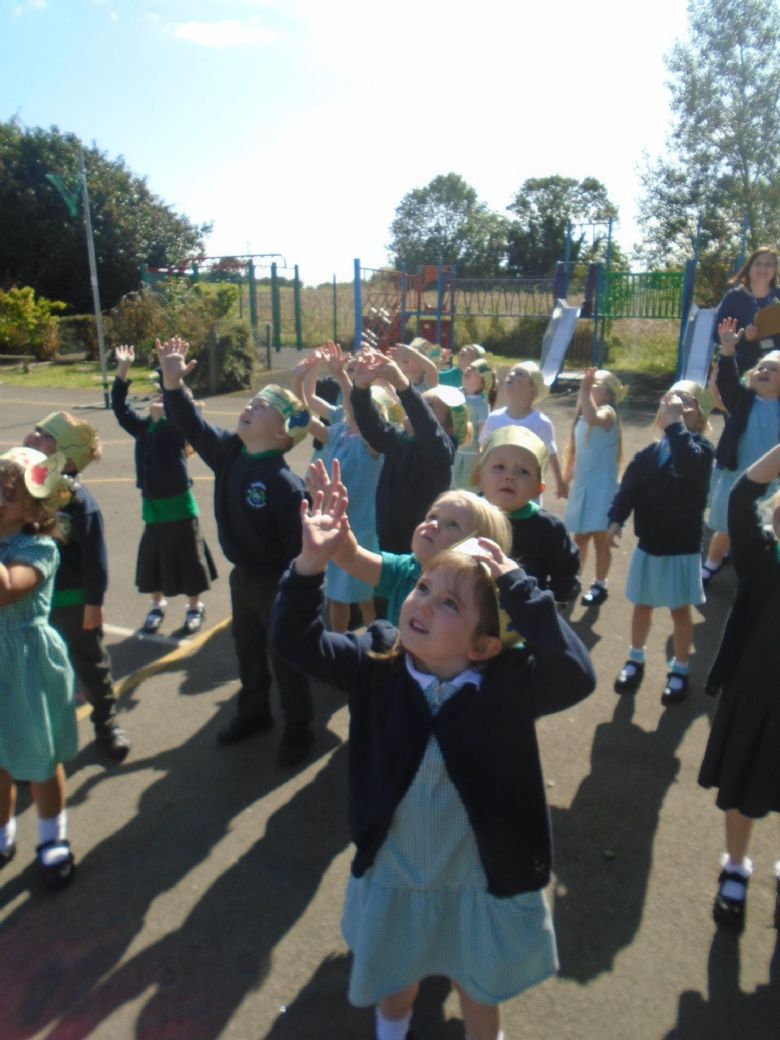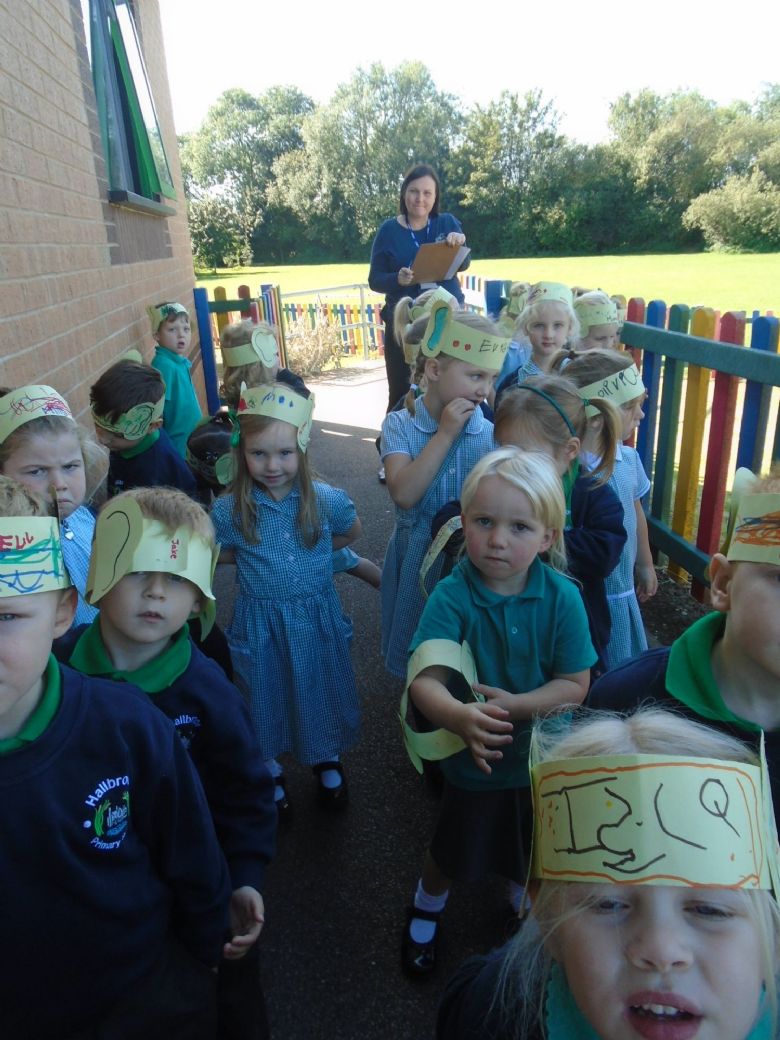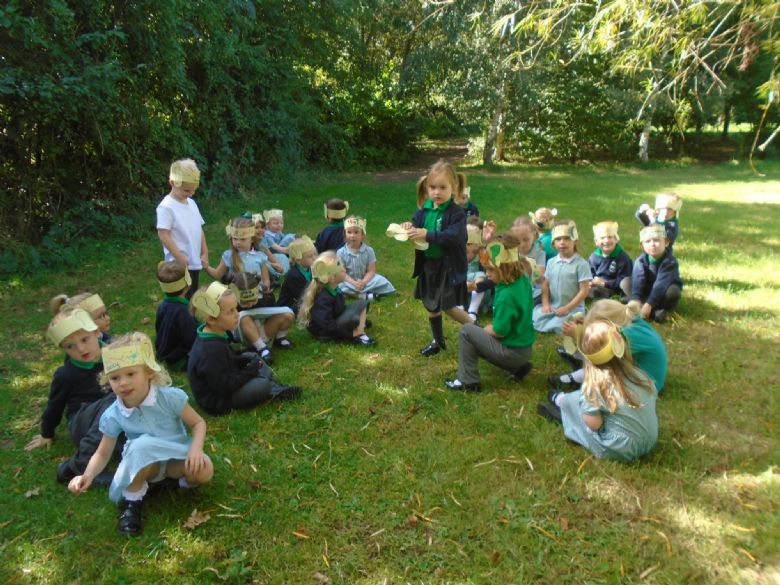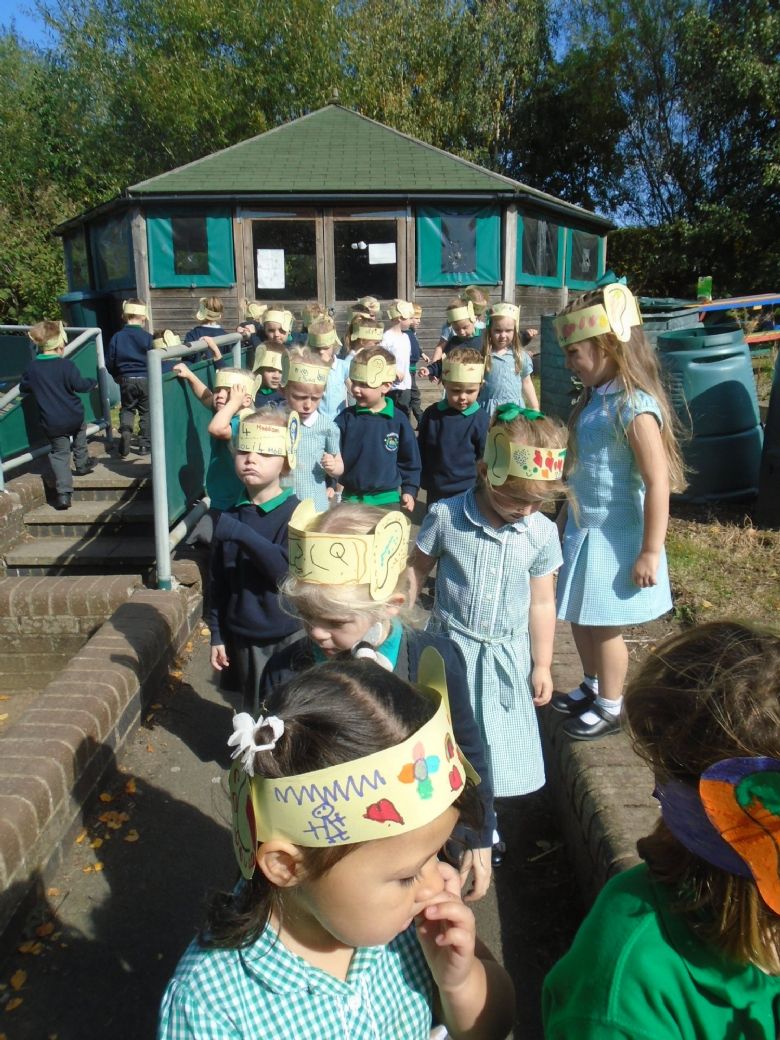 17.9.2019 Today we went on a listening walk around the school and playground. We used our super listening ears to hears things like the telephone ringing, a toilet flushing, a tap running, birds singing and people talking. As part of our phonics work we have also been listening to other environmental sounds and trying hard to describe and name what we hear - we have particularly enjoyed playing these games on our interactive whiteboard.
24.9.2019 Despite the wet weather, we still managed to have lots of fun playing outside.
The main focus of the second half of the autumn term was Autumn changes and seasonal celebrations.
Why do squirrels hide their nuts? was the title of our topic. We went on an autumn w
alk, looked for changes in nature, thought about what happens to trees and plants as well as considering how the animals that live near and around Broughton Astley prepare for a cold winter. We learnt what is meant by the terms hibernation and migration and helped the animals that live in our playground by making feeders for them.
During the autumn and winter term a number of celebration also take place which we will enjoy exploring together.
To celebrate harvest we thought about foods that we grow in our gardens and on farms. We talked about a healthy diet and the different types of food that we eat. We also shared stories about harvest including The Little Red Hen. Linked to this work we made some of our own bread as well as using some harvest vegetables to make our own soup.
This year Diwali was celebrated on the 27th October. We considered how people around the world celebrate Diwali, shared traditional stories such as the story of Rama and Sita and created a range of beautiful art work such as clay divas, rangoli patterns and made traditional Indian sweets.
We considered Bonfire Night and Halloween celebrations. As a class we shared how we celebrated at home, taking about how we dress up and have parties as well as considering why we remember Guy Fawkes and have fireworks and bonfires on the 5th November.
Around 11th November we also thought about the importance of Remembrance day and symbols that are used to help us remember soldiers who have died in the past and still help us today.
At Christmas we enjoyed a range of festive fun including creating decorations, learning about Christmas traditions and sharing the nativity story. We also worked very hard on performing a Christmas Nativity for our parents.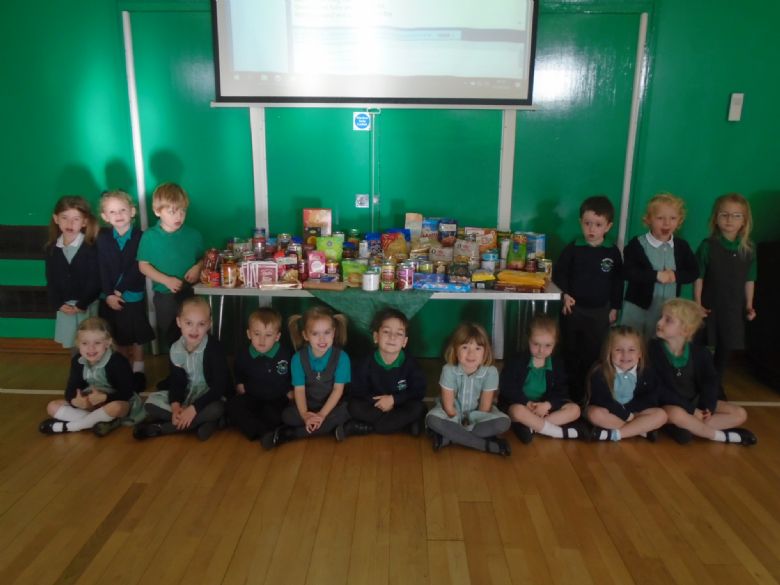 10.10.2019 We enjoyed taking part in the harvest assembly today. Rev Sharron and Rev Laura talked to us about our favourite dinners and how some people around the world do not have enough to eat. Thank you to all those parents who contributed to our school harvest collection, it has now been taken to the fod bank in Lutterworth where it is very much appreciated.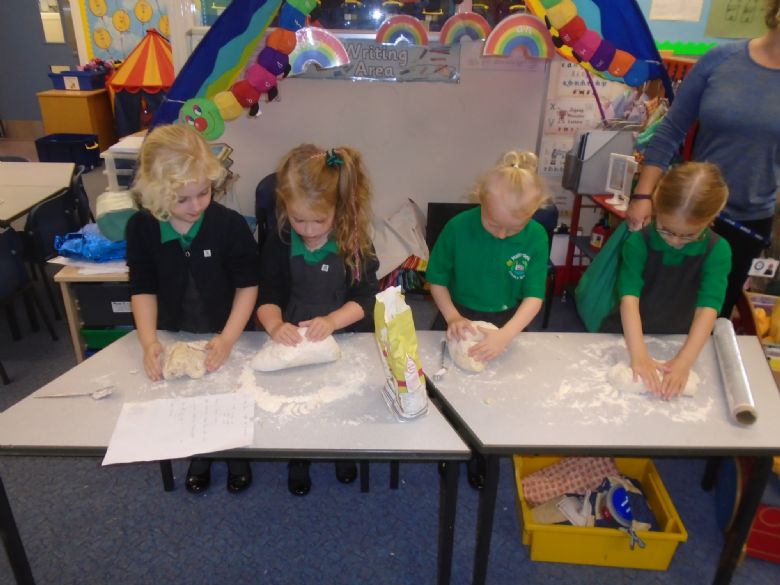 WC 21.10.2019. We have had a busy week at school. We have been learning all about harvest. We have talked about the jobs of farmers and explored vegetables and grains that are grown. We used the vegetables to make faces and then we cut them up to look at what the seeds inside looked like as well as what they smell and feel like. We also shared the story of The Little Red Hen. We used this story as inspiration to make our own bread which we took home to share and we also used some of the vegetables to make our own vegetable soup. To see some photos from our harvest cook click here.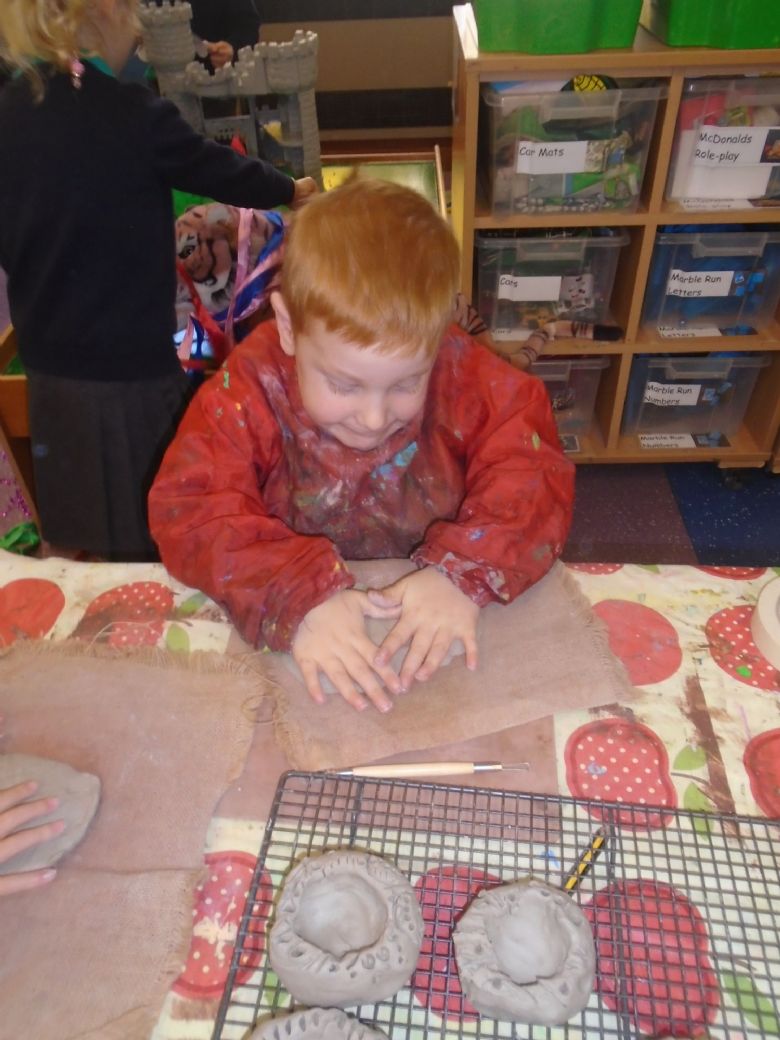 WC 28.10.2019 We have loved learning about the celebration of Diwali. We talked about how people around the world celebrate Diwali and listened to children talk about how they prepare for Diwali and celebrate. We then had a go at making some of our own decorations and gifts including clay divas, Indian sweets and rangoli and mehndi patterns. We also shared the story of Rama and Sita and the children ere engrossed in the 10 headed demon so we had a go at creating our own demons. To see photos of the children making their divas and sweets click here.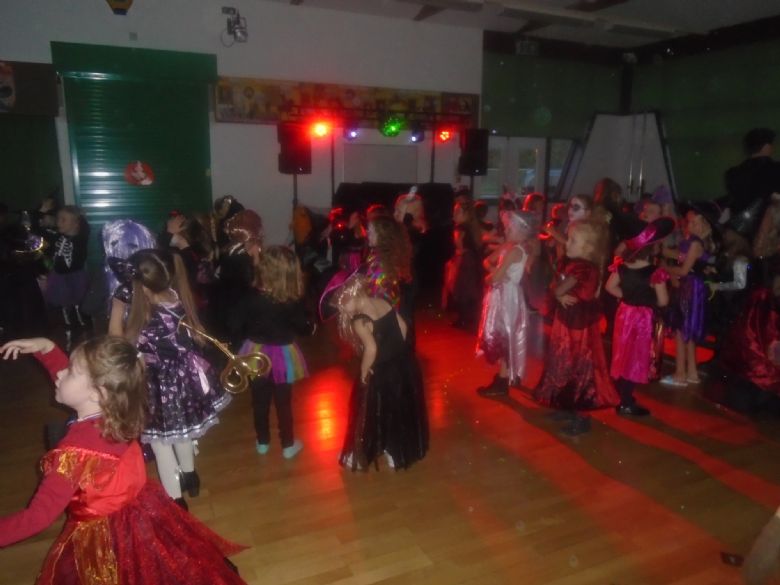 30.10.2019 We had so much fun at the Halloween Disco. There were some great costumes and lots of fantastic dancing. To see some photos from the disco click here.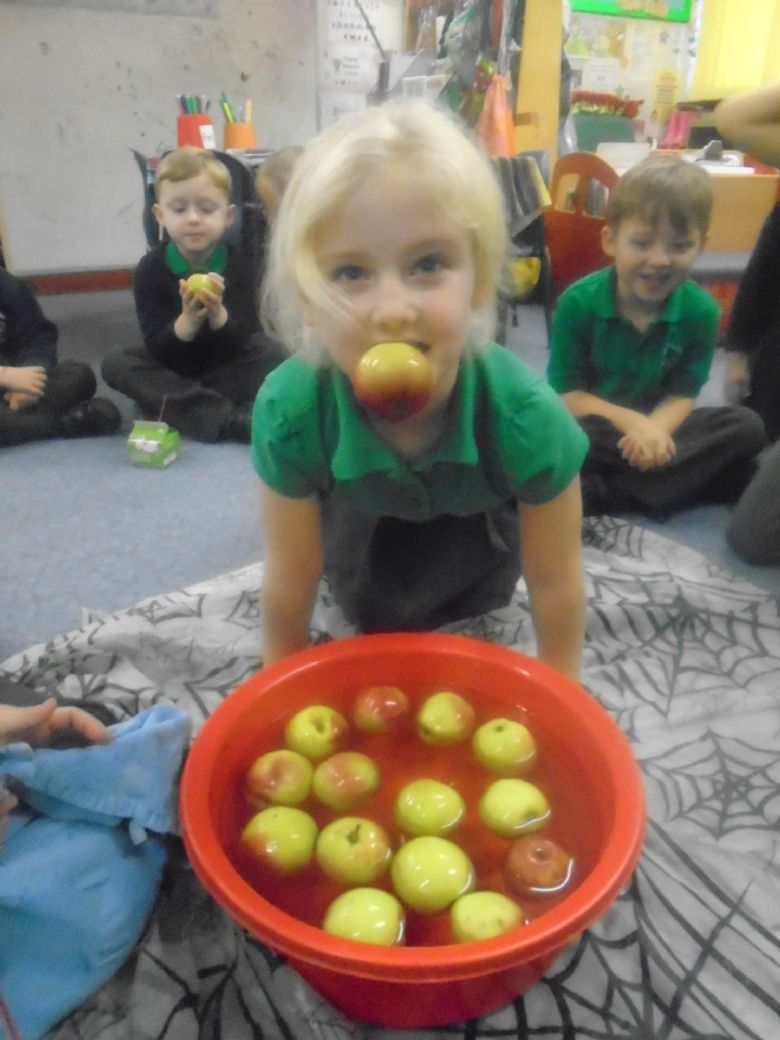 31.10.2019 We have had lots of fun at school celebrating Halloween. We have dressed up in costumes and created Halloween art work as well as playing games like apple bobbing. To see some pictures from todays fun click here.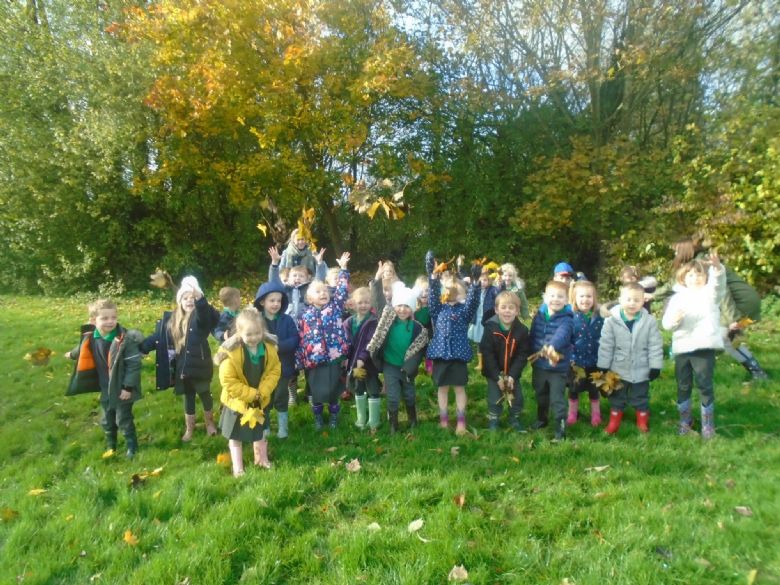 11.11.2019 Today we have been autumn explorers. We went for a walk around the playground looking for changes that we could see happening around us. We talked about the cold, wet weather as well as the beautiful colours that the leaves were changing to before falling to the ground. We also noticed that there were less insects and creatures around and how berries were growing on the bushes and how many of the flowers had died. To see more photos from our autumn walk click here.
11.11.2019 As an act of Remembrance the children joined the rest of the school in the hall for 2 minutes silence at 11am. We also painted and make our own poppies as well as discussing who we are remembering on Armistice day and why we wear a poppy.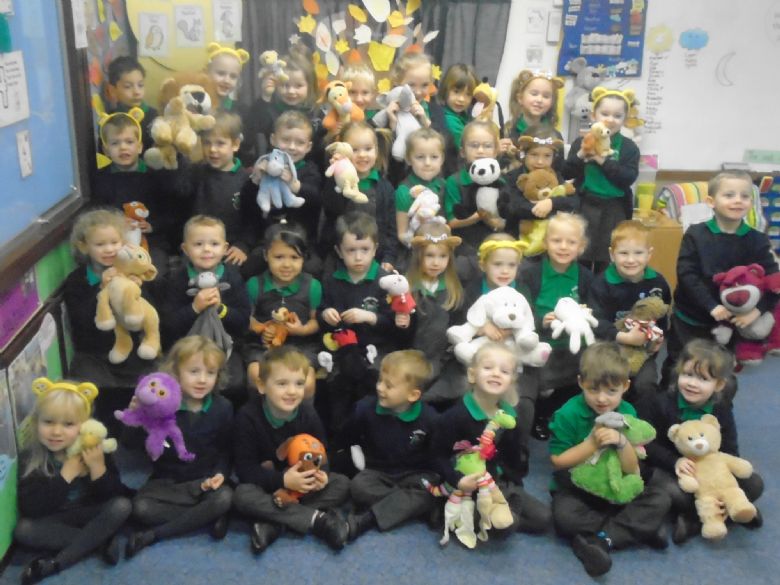 15.11.2019 We loved bringing our cuddly toys to school today to join in the fun of Children in Need. We did lots of fun Pudsey art work as well as joining in with Pudsey yoga. We also learnt about why we raise money for Children in Need and how some children are less fortunate than us and how the money raised helps those children.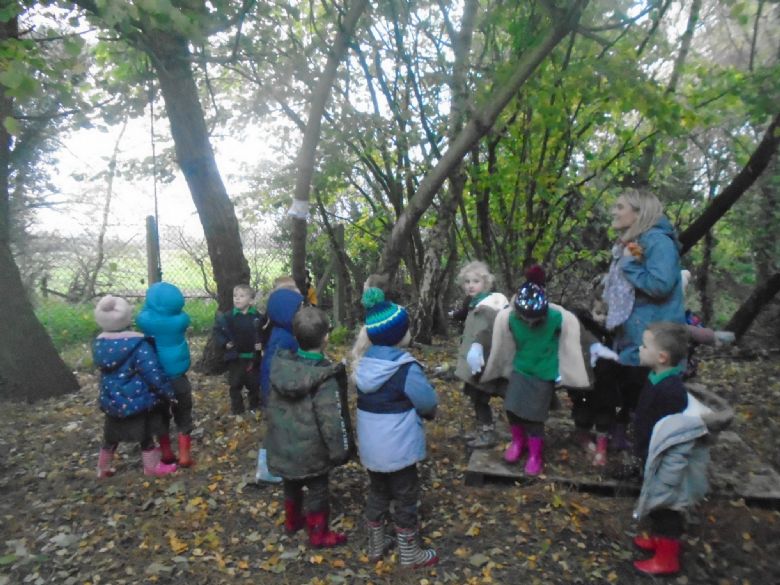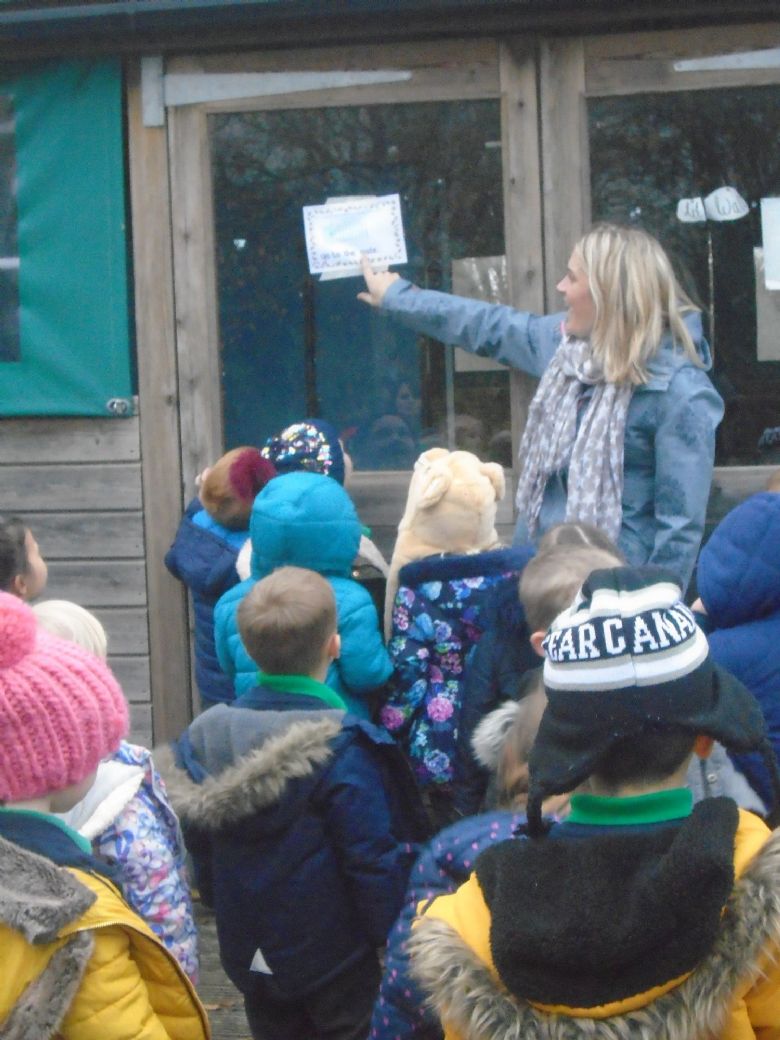 21.11.2019 This week we shared a Percy the Park Keeper story called The Treasure Hunt. Inspired by this story we wrote our own treasure hunt clues and this afternoon we had our very own treasure hunt in the playground. We used our super reading skills to follow the clues all around our playground and found the treasure in the woods at the end of the trail (a yummy chocolate coin). To see more photos from our treasure hunt click here.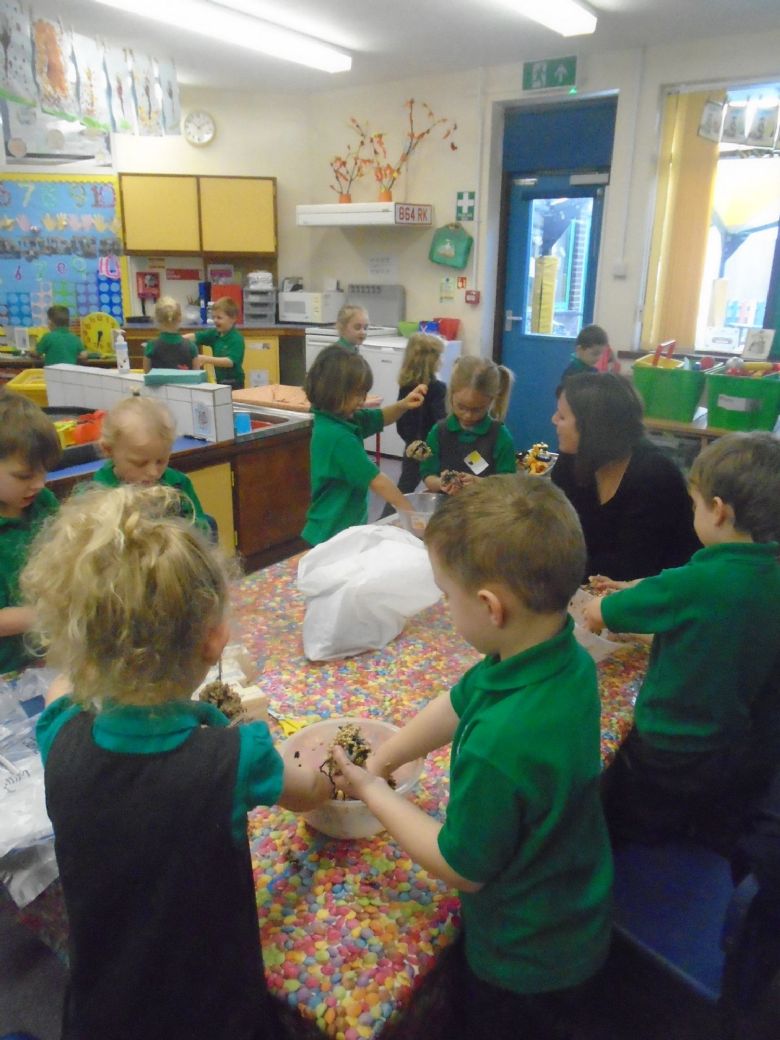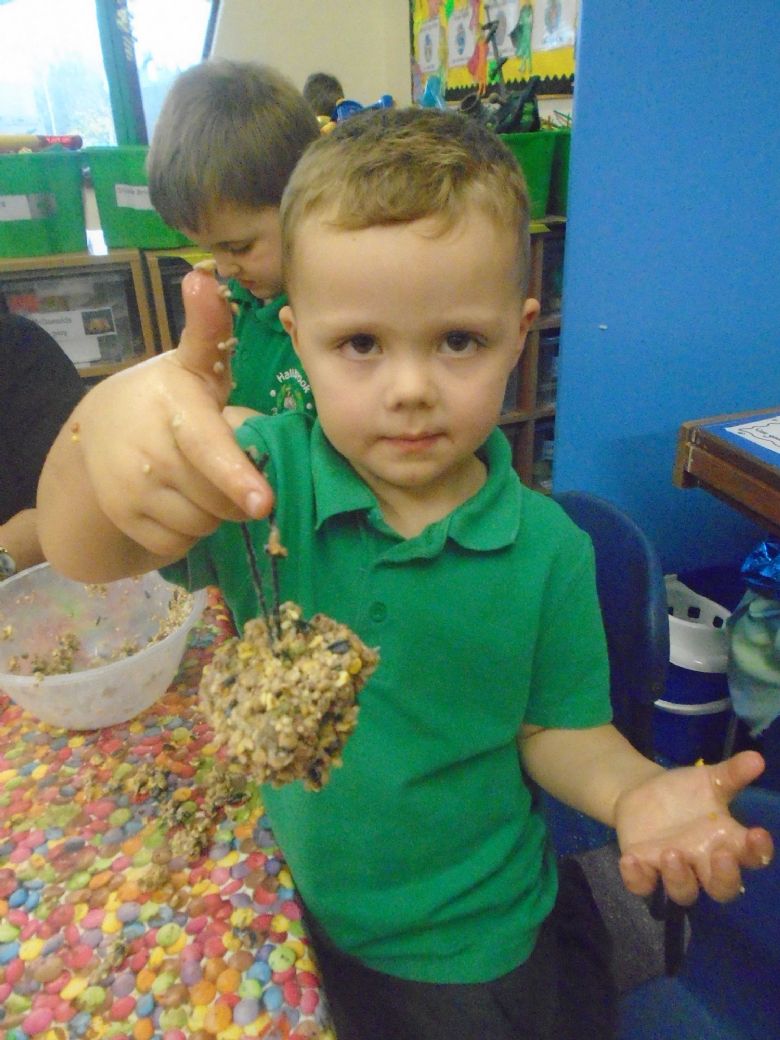 26.11.2019 As part of our topic about autumn we have been considering what animals that live in Broughton Astley do to prepare themselves for the inter. Today we talked about birds in our gardens and how the winter time means there is less food around for them to eat. We decided to make our own bird feeders to take home using a pine cone, lard and bird seed so that the birds in our garden's would have something nice to eat. To see our completed bird feeders click here.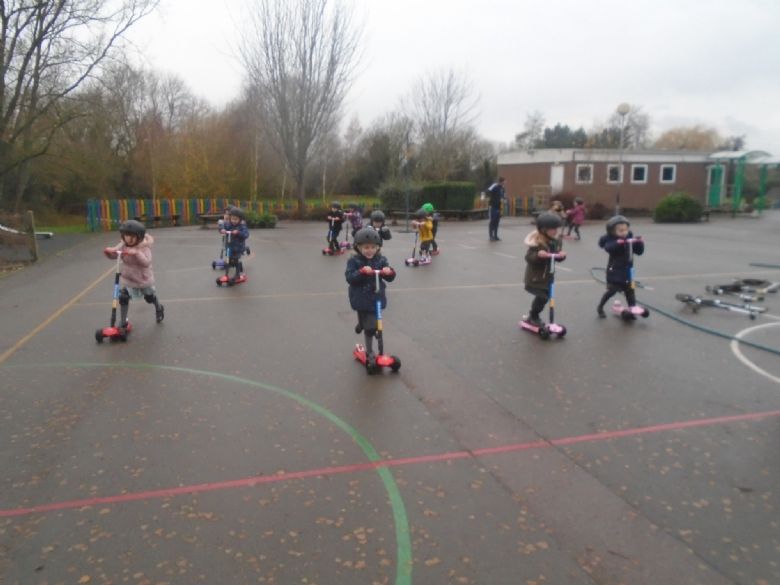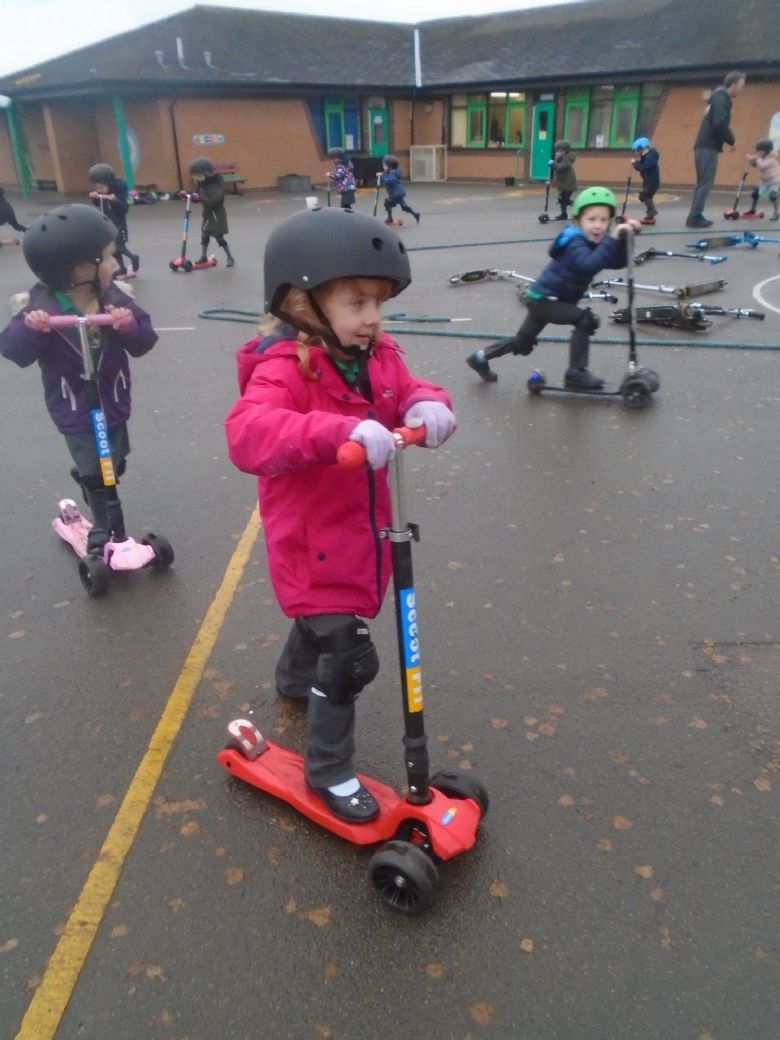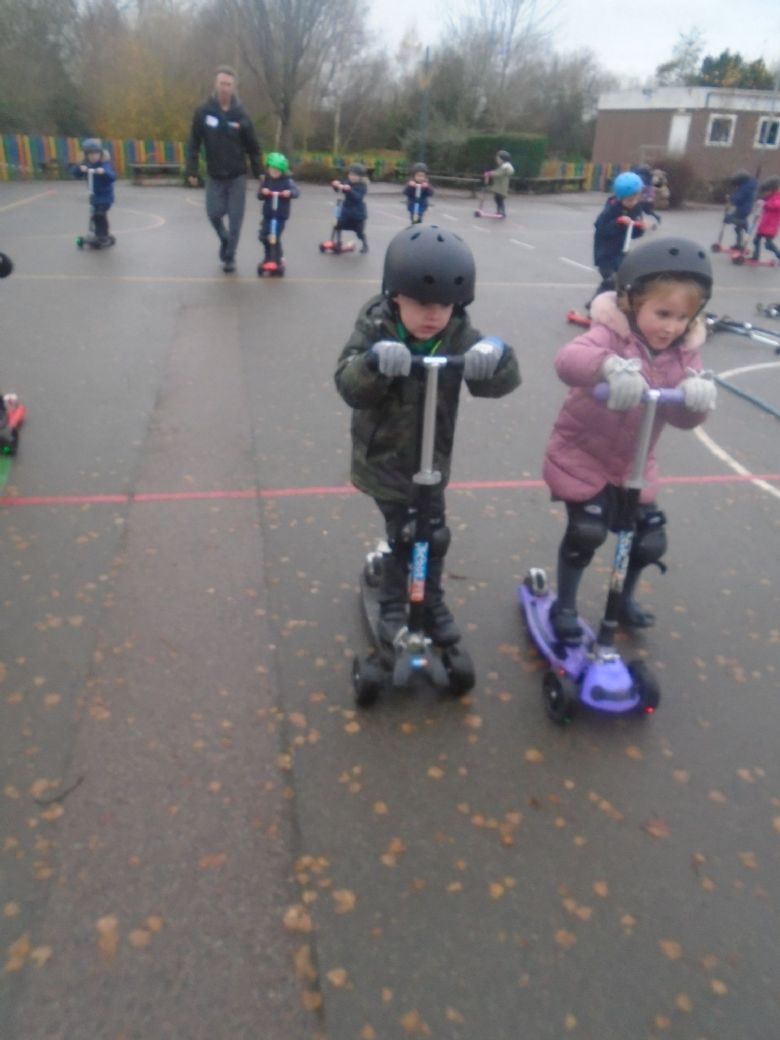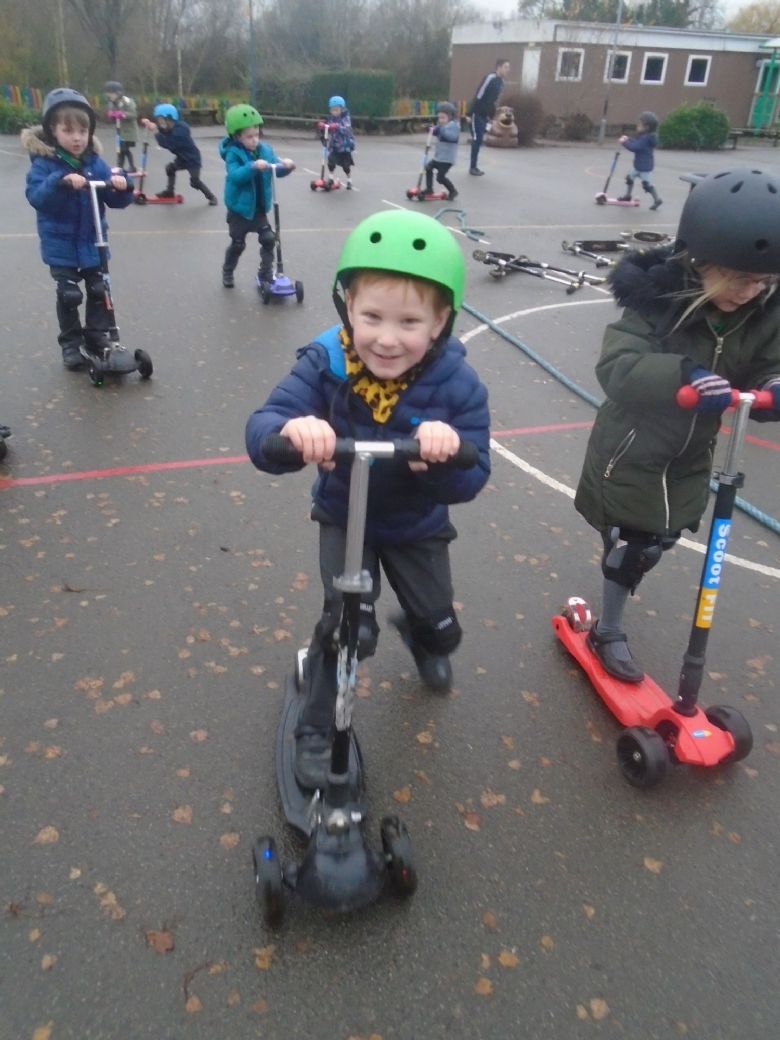 28.11.2019 We really enjoyed taking part in the scooter session this afternoon. We put on all our protective gear before getting our scooters and riding around the playground to music. To see more photos of us on our scooters click here.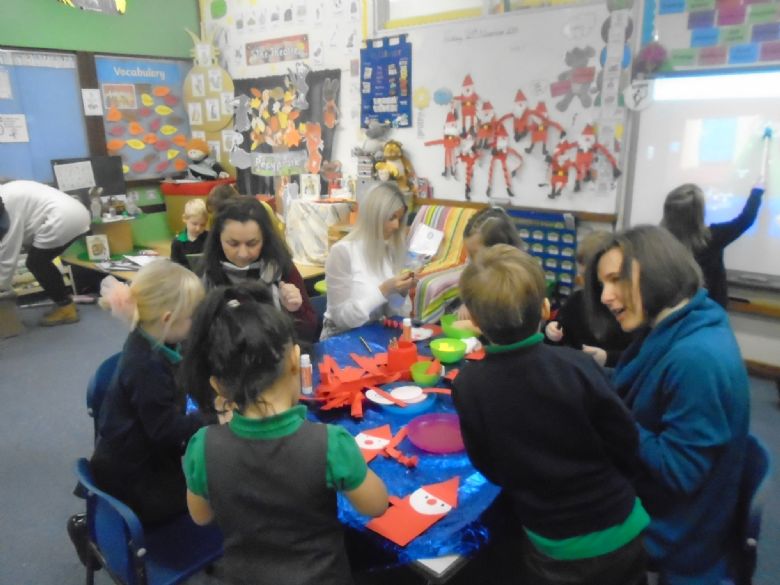 29.11.2019 Thank you to all those parents that came to our winter activity morning, we had lots of fun creating lots of winter and Christmas crafts together. To see more photos click here.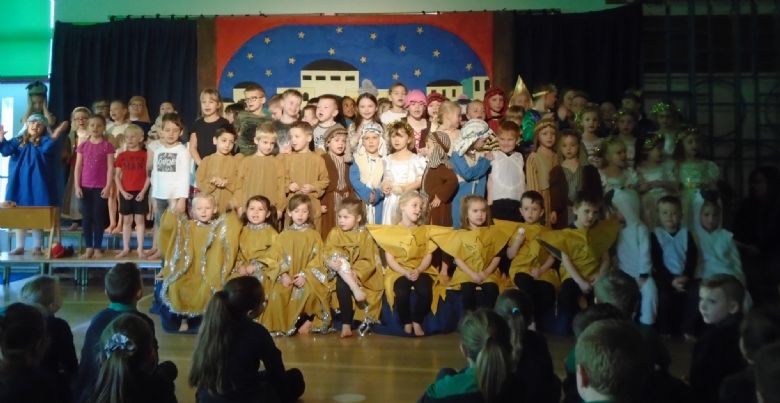 12.12.2019 Today we performed our Christmas production to our mums, dads and families. We took on the roles of angels, shepherd, sheep, camels and stars in the show The Innspectors. We worked hard on our lines and dances and although nerves got the better of a few of us we really tried our best.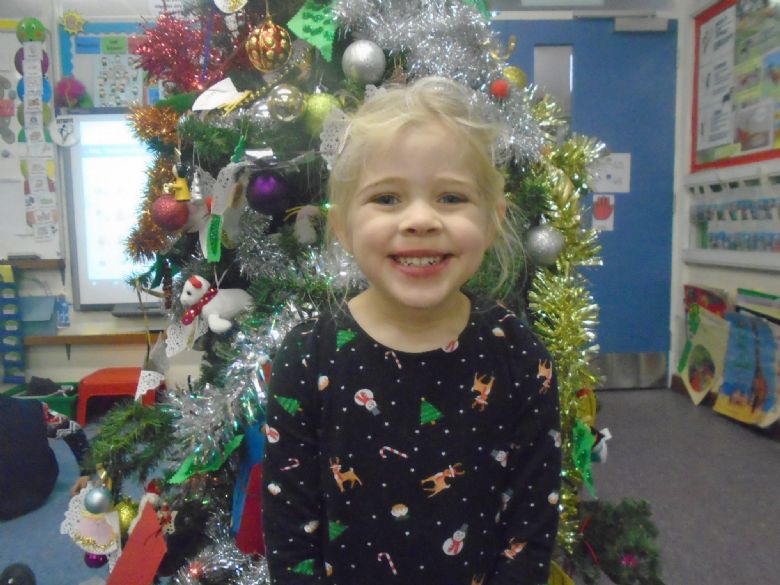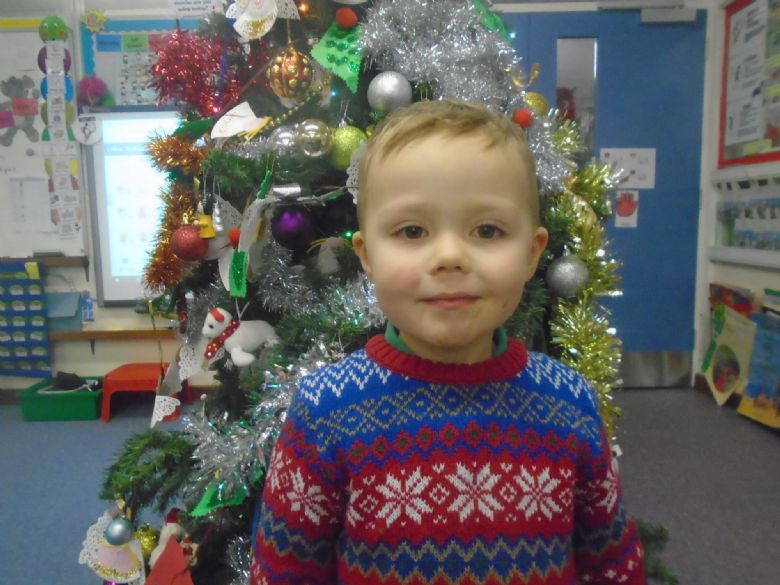 13.12.2019 Today was Christmas jumper day at school. We all came to school wearing our festive tops to help raise money for Save the Children. It was also Christmas lunch at school so we all sat together to share a Christmas meal.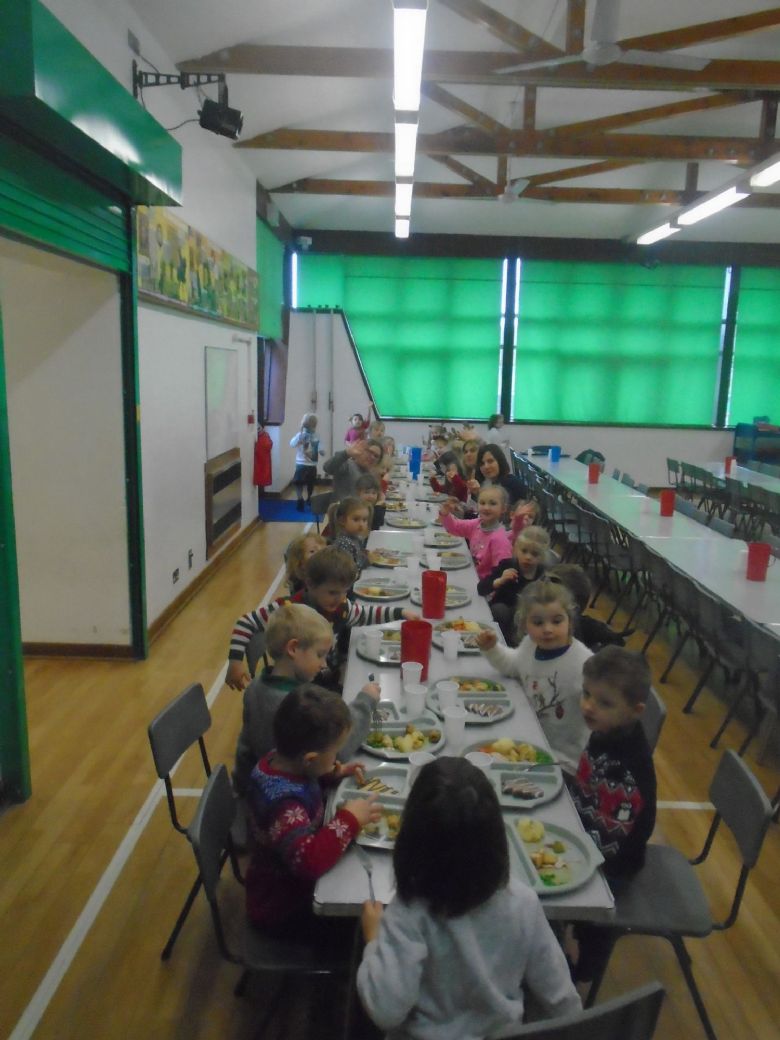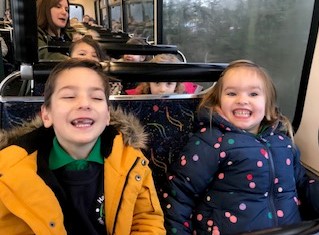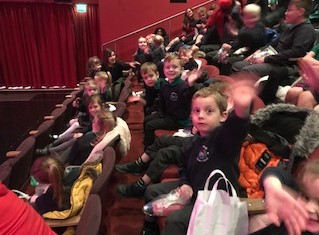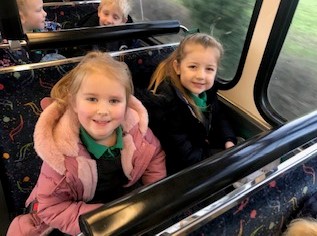 16.12.2019 Today the whole school went to watch the pantomime Beauty and the Beast. It was lots of fun sitting on the bus with our friends and playing I spy on the way to the theatre and we all enjoyed joining in with the fun of the show.