Tadpoles
Welcome to our Tadpoles page on the website. Our class teacher is Mrs Tasker.
The topic for this half term is Once Upon a Time … We will be sharing lots of fairy tale stories this half term but in particular we will be focusing on three of our favourite stories, The Three Little Pigs, Goldilocks and the Three Bears and Jack and the Beanstalk.
Whilst sharing the story of the Three Little Pigs we will be talking about the main characters as well as investigating the materials the pigs used to construct their houses. To help in the construction of the pig's house we will be learning about measures in maths so we can measure length, weight and capacity of the materials needed in construction.
We will also be having a visit at school from the Big Bad Wolf. Whilst keeping warm from the cold outside, he will be sheltering in our school and as a class we will create wolf art work and wanted posters to catch the wolf which we will share with the rest of the school.
Whilst sharing the story of Goldilocks and the Three Bears we will be discussing the behaviour of the characters in the book and will have a go at making our own porridge in school. You never know, maybe we will have our own visit from Goldilocks too!
Our work on Jack and the Beanstalk is going to focus on the writing letters between Jack and the Giant. We will be retelling the story together and considering how we could help Jack and the giant be friends.
We will also be preparing for our fairy tale party. We will be talking about what we have to prepare for a party including invitations, decorations and food.
Towards the end of the term we will be learning all about Easter. We will be sharing stories from the bible, thinking about Christian traditions at this time of the year as well as creating lots of art work linked to the celebration.
Important Dates and Information
Thursday 7th March World Book Day – Children can come to school in the Pyjamas for a Big Booky Day including a breakfast celebration of books from 8am (please see previous letter regarding this event)
Wednesday 20th March Parents are invited to attend a Mathematics Open Afternoon which will be filled with lots of fun mathematical challenges (letter to follow nearer the time).
Wednesday 3rd April A fairy tale party to mark the end of our story-based topic (letter to follow)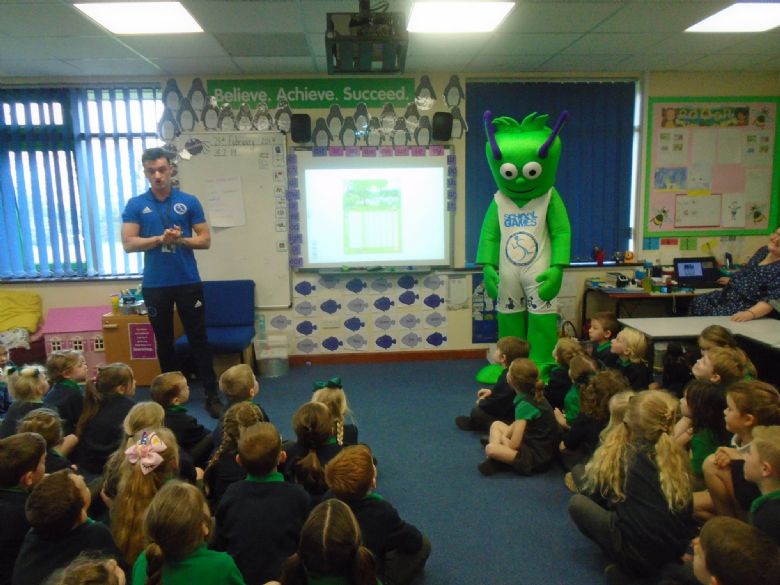 28.2.2019: Today we had an assembly in school telling us all about Let's Walk to School Month in March. We loved meeting Spike, the walk to school mascot, and we listened as our visitors told us all about the benefits of a healthy lifestyle and how walking / cycling / scooting to school is good for us as well as good for our environment and local area. Every day in March all classes in school will be filling in a walking chart, collecting points as a class and as a school for walking to school each day. If you live out of the area the visitors suggested that we could park a little further away from school and just walk the final part so everybody has a chance to be involved regardless of their homes proximity to the school. There is a walk to school competition between classes taking place within school to win the walk to school trophy as well as our school competing against other school in the local area.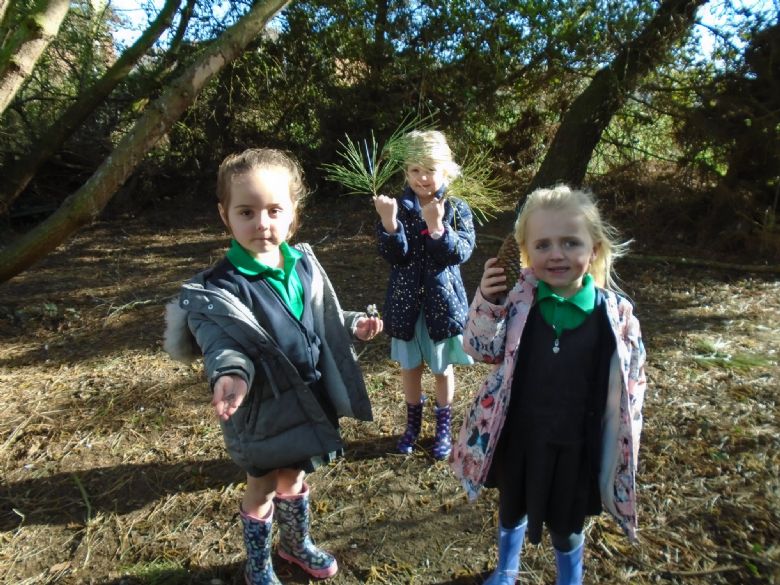 4.3.2019: We have enjoyed sharing the story of Goldilocks and the Three Bears over the last couple of weeks at school. Today we decided that we would make some porridge just like the Three Bears did. We followed their recipe and talked about what we like to put on top of our porridge when we eat it at home. When it was cooked we were all ready to eat up but it was far too hot so we decided to go for a walk in the woods whilst it cooled down. Whilst we were out on the field we looked for signs of spring. We found daffodils blooming and daisies starting to grow on the grass. Buds and leaves were starting to emerge on the trees and we even found some blossom on the trees in our playground. When we went back inside to warm up and eat our porridge to our surprise someone had got there first and eaten it all up. Who could it have been? We suspect Goldilocks crept into our classroom whilst we were outside and ate it, but lucky she left just enough for us all to have a try too. To help us catch Goldilocks we have made wanted posters to display around school so everyone is on the look out and we will be writing a letter to Goldilocks to tell her how sad we feel, just like Baby Bear felt in the story. To see more photos from our spring walk click here.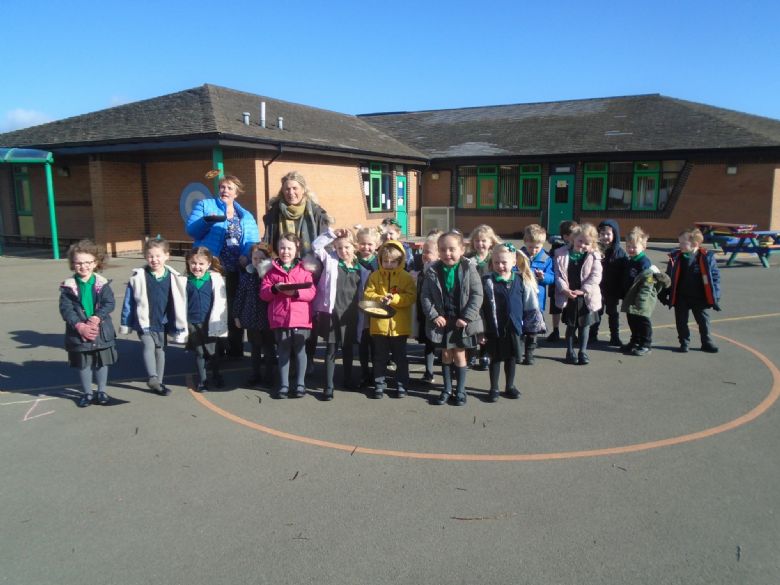 5.3.2019: Today we learnt all about Shrove Tuesday. We discussed why we have pancake day at this time of the year before we worked together to make our own pancakes. Mr Haltof was on hand to help with teh pancake flipping before we all tucked in and enjoyed trying some pancakes with sugar and lemon on. With the spare pancake we made, we went outside to have a pancake race. We worked in relay teams to run and flip the pancakes before passing the pan to our team mates, it was lots of fun, although a little tricky to keep the pancakes in the pans. To see more photos from the pancake day fun click here.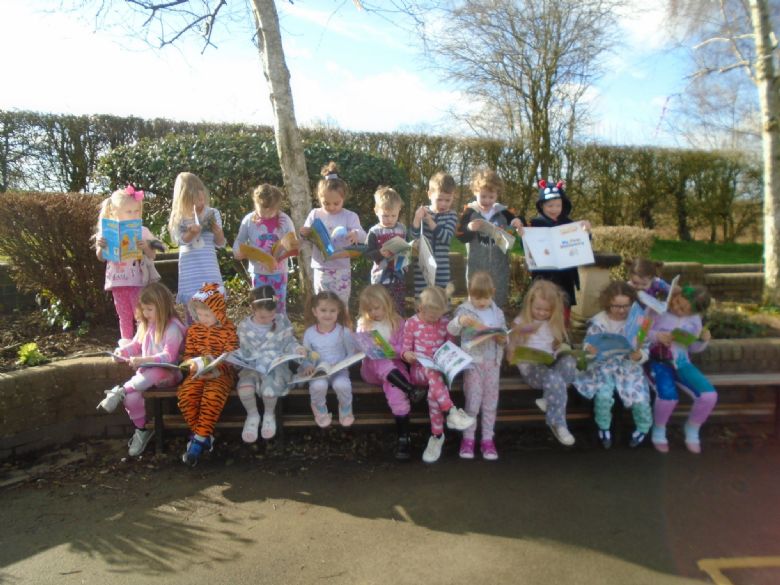 7.3.2019: Today we came to school dressed in our pyjamas for a Big Booky Breakfast. Lots of us went to the breakfast book share to enjoy reading and breakfast muffins before coming into school. At school we have enjoyed talking about our favourite books and sharing stories together. To see more photos from our reading today click here.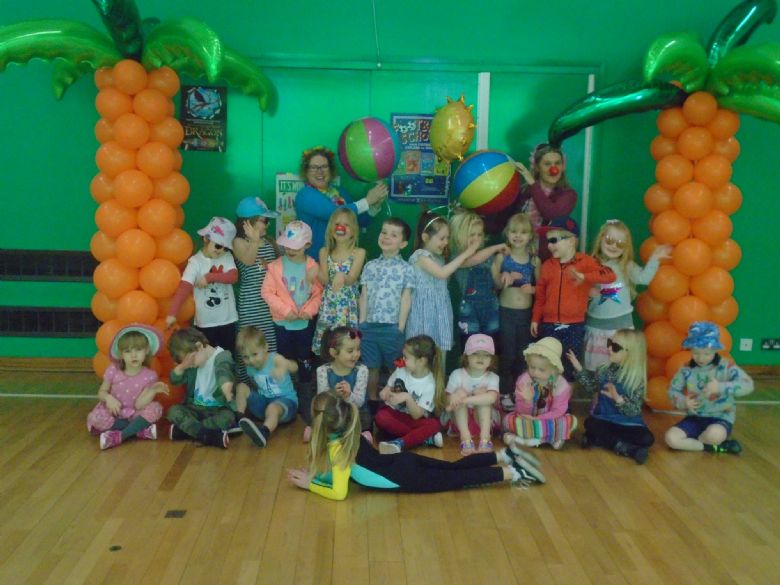 15.3.2019: To raise money for Comic Relief we all came to school dressed for the beach. It was lovely to see so many summer outfits on a cold March day. In the classroom we learnt about why e raise money to support Comic Relief and how some of the money is spent. We alo designed our own special red noses. At lunch time we had lots of fun having a beach party picnic. To see photos of our summer outfits click here. To see photos from the beach party picnic click here.
Our topic for the first half of the spring term was called Starry Night. This topic focused around space and what happens outside our window when we go to sleep at night. We considered bedtime routines, thinking about how we get ready for bed and stories we like to share before we go to sleep. We also learnt about space and the night sky. We looked at night sky images, thinking about what stars are and the planets in our solar system. We imagined our own space adventures, inspired by stories such as Whatever Next! We also learnt about things that happen at night whilst we are asleep including nocturnal animals that come out at night and people who work through the night, especially those that help other people such as the police, firemen and doctors and nurses.
This year Chinese New Year was celebrated on the 5th February. We learnt about how people around the world celebrate Chinese New Year, sharing traditional stories such as the Chinese New Year Animal Race and creating a range of beautiful art work such as Lanterns, dragon puppets and ordinal number rosettes.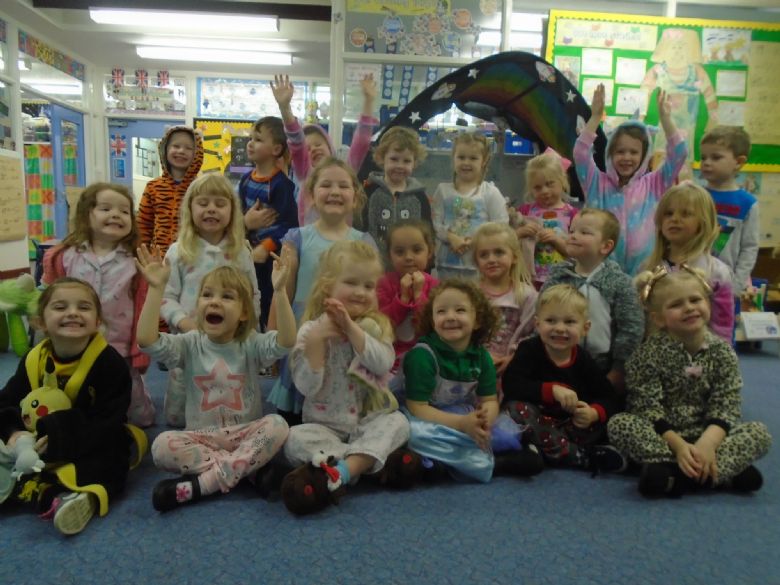 11.1.2019: Today we launched our new topic called Starry Night. We all came to school in our pyjamas, dressing gowns and slippers. We had fun sharing bedtime stories and talking about our bedtime routines and dreams and at the end of the day we all shared a cup of hot chocolate and a biscuit. To see our hot chocolate photos click here.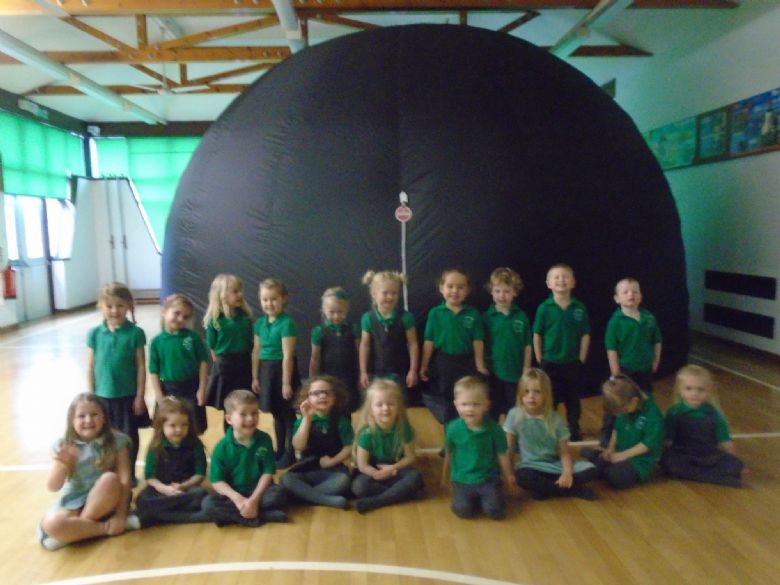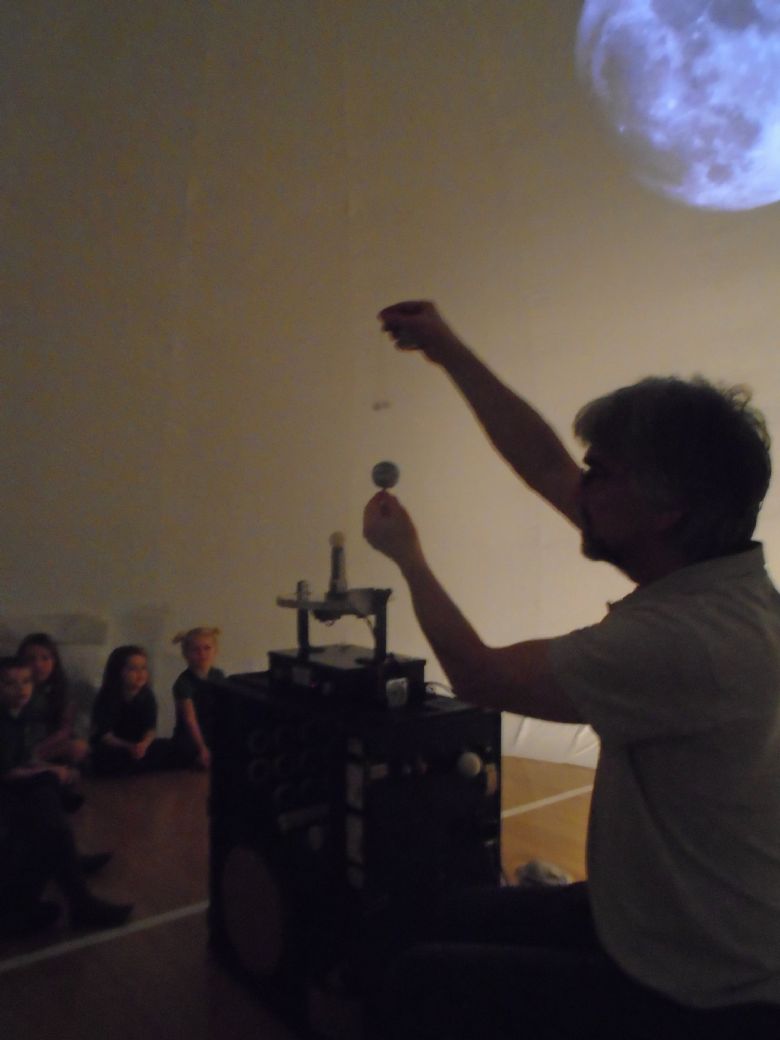 15.1.2019: We had lots of fun exploring the night sky during the Blackhole Mobile Planetarium visit today. We all went inside the strange black blow up tent and sat down to watch and listen to some amazing facts about space, the stars, our planet as well as light and dark and nocturnal animals. Our favourite part was when the roof of the tent became a magnificent show of beautiful stars as well as when he showed us what it was like to be in complete darkness. We had lots of questions to ask our visitor including what are stars? Why do we have night and day? and why does the Earth go round?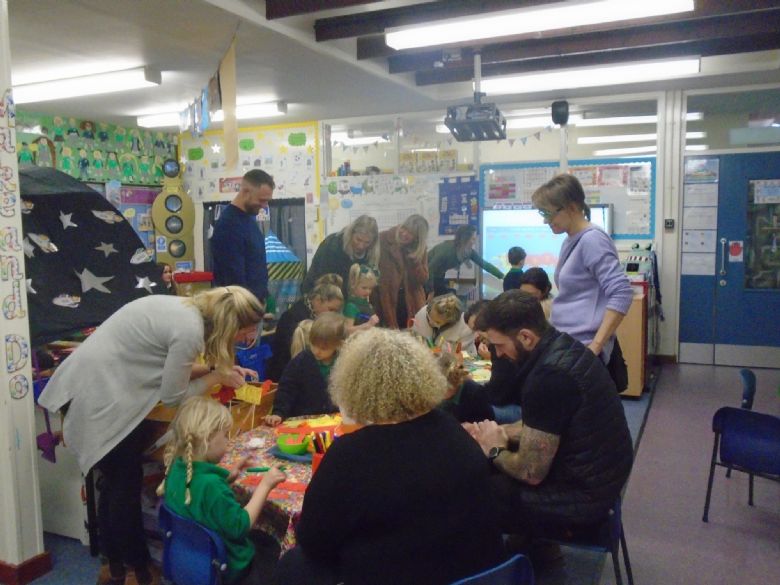 5.2.2019: To help us celebrate Chinese New Year we invited in our families to come and help us make some Chinese New Year crafts. We had lots of fun making dragon puppets, cutting and colouring Chinese lanterns and creating hand print pigs to mark it being the year of the pig. We ended the afternoon by singing 5 Fortune Cookies as well as performing our Chinese Dragon Dance. Thank you to all those parents that were able to join us today, we hope you had as much sticky fun as we did. To see photos from our parent drop in click here.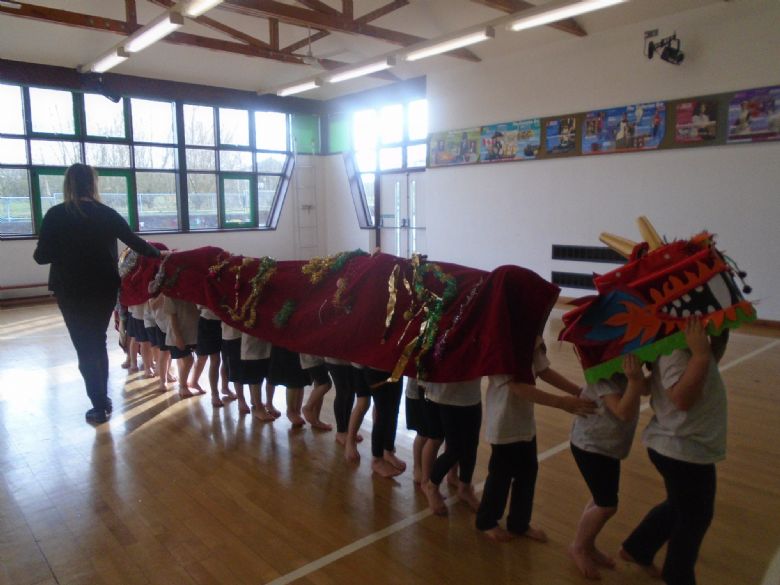 5.2.2019: We have had lots of fun learning about Chinese New Year and how people around the world celebrate. We have watched videos and shared stories linked to traditional tales as well cooking and trying some Chinese Food and taking part in our own Chinese dragon dance to music. To see photos from our Chinese New Year work click here.