Welcome
Hallbrook Primary School is situated on the edge of the village of Broughton Astley in Leicestershire.
Hallbrook Primary School is a very happy and welcoming school with a 'family feel'. We are committed to the safety and care of our pupils. Our aim is to provide the highest quality education for all in a caring, supportive, inclusive and vibrant learning environment. We offer an exciting curriculum where teachers and pupils work together to ensure high quality teaching and learning opportunities that enable all pupils to flourish and achieve their very best.
Latest News
Hallbrook Primary School is proud to be a 'Good' school - Ofsted, June 2014.
Click the image below to read the report.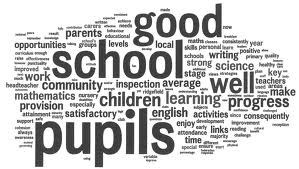 We celebrated the 100th birthday of Roald Dahl with a day packed of activities relating to many of his different books.
Upon arriving at school, the children were greeted by two Oompaloompa's that were allowed out of Wonka's factory, Grandpa Joe and Mrs Fox.
The costumes of the children were amazing, depicting characters from all of the works of the great author. Well done everyone!